Fontina, Ham & Apple Flan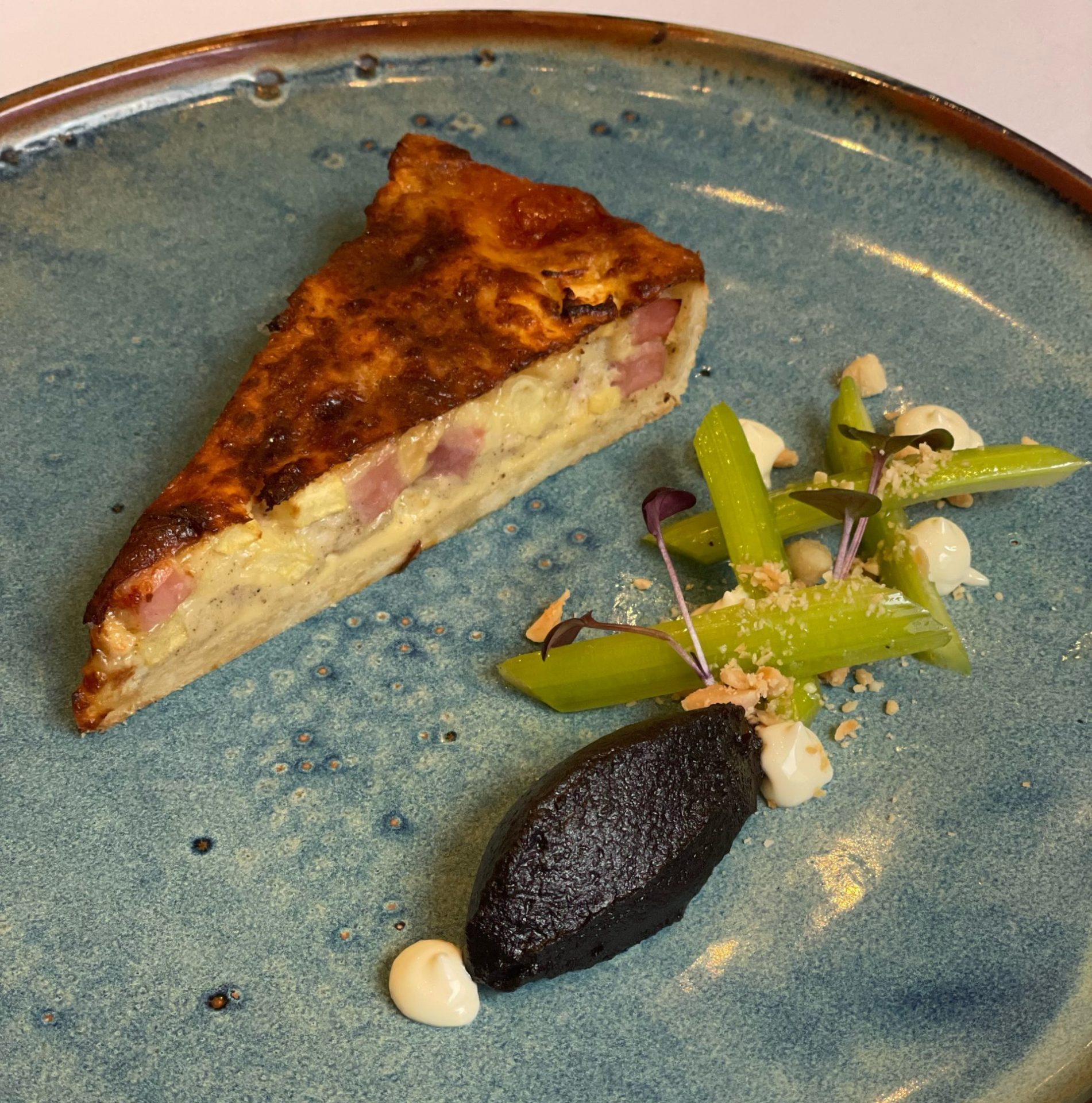 By Chef Matthew Batey, Corporate Executive Chef, Teatro Group
Yield Two 10" tarts
Equipment:
Two 9" flan rings – with removable bottom
Rolling pin
Baking sheet
Mixing bowl
Whisk
For the Pastry: Yield 1 kg (or 2 tarts)
475 g pastry flour
325 g unsalted butter (cold – freeze for best results)
2 eggs (beaten)
5 g sugar
10 g salt
2 tbsp. milk
Method:
Mix the egg, salt and sugar together in a small bowl
Make a well out of the flour on a clean work surface. Grate the cold butter using a box (cheese) grater and place in the centre of well, add the egg mixture. 
Slowly start to incorporate the flour into the centre of the well (similar to the method of making pasta dough, until all the ingredients are almost mixed together.
Add the cold milk and gently bring all the ingredients together until the dough is homogenous but do not overwork. 
Let rest covered for several hours before using.
For the Filling:
8 eggs
200ml sour cream
500 g Fontina cheese (diced)
4 apples (cored and diced, select apples firm in texture)
400 g ham (cooked and diced into small pieces)
5 ml fennel seed (toasted and ground)
Salt (as needed)
Finely ground black pepper (as needed)
Method
Make pastry recipe and let rest for 2 hours in a cool place.
Spray flan rings well with non-stick spray.
Divide the pastry into two even pieces, roll each out to a 2mm thickness.
Carefully line the flan rings with the rolled pastry. Trim the edges and let rest.
In a large bowl, whisk the eggs and fennel seed with the sour cream until smooth. Season with salt and pepper.
Add the cheese, apples and ham to the pastry shell and evenly distribute the ingredients.
Evenly distribute the egg mixture between the two flans, ensuring that you don't overfill.
Bake in a 400°F for 5 minutes, then turn heat down to 300°F for about 45 minutes (until the tart is set and pastry looks golden).
Remove and let cool.
NOTE: One can make small individual tarts using all the same ingredients and techniques – just reduce the cooking times as necessary.
---
About Matthew Batey:
Award-winning Chef Matthew Batey ignited his culinary spark at a young age while watching his father cook at home. What started as a glimmer, soon became a flame and cemented his decision to become a chef at the ambitious age of 14. As a budding chef, Matthew completed an apprenticeship at the Fairmont Empress Hotel and was promptly recruited to open what was soon to be awarded Canada's best restaurant of 2002, Catch.
After his tenure at Catch, Batey honed his passion and pursuit of culinary excellence working in the celebrated kitchen of Vancouver's acclaimed Chef Bruno Marti. Chef Batey would then go on to The Terrace Restaurant at Mission Hill Family Estate Winery, where Matthew's passion for showcasing regional cuisine in the Northwest was fully expressed. Chef Batey then returned to Calgary in 2014 to help open and develop The Nash as well as Off-Cut Bar.
In 2017, Batey stepped into the role of Corporate Executive Chef for the Teatro Group. When speaking about his work at Teatro, he has this to say, "It's about our brigade performing night in and night out for our guests, to evoke emotion because of a beautifully orchestrated guest experience." Driven by the team atmosphere and desire to provide an unparalleled dining experience to his guests, Chef Batey can be found in his element cooking alongside the brigade, inspired by the bounty of Canada and rooted in European sophistication.