La Box by Monsieur Cocktail is a cocktail unicorn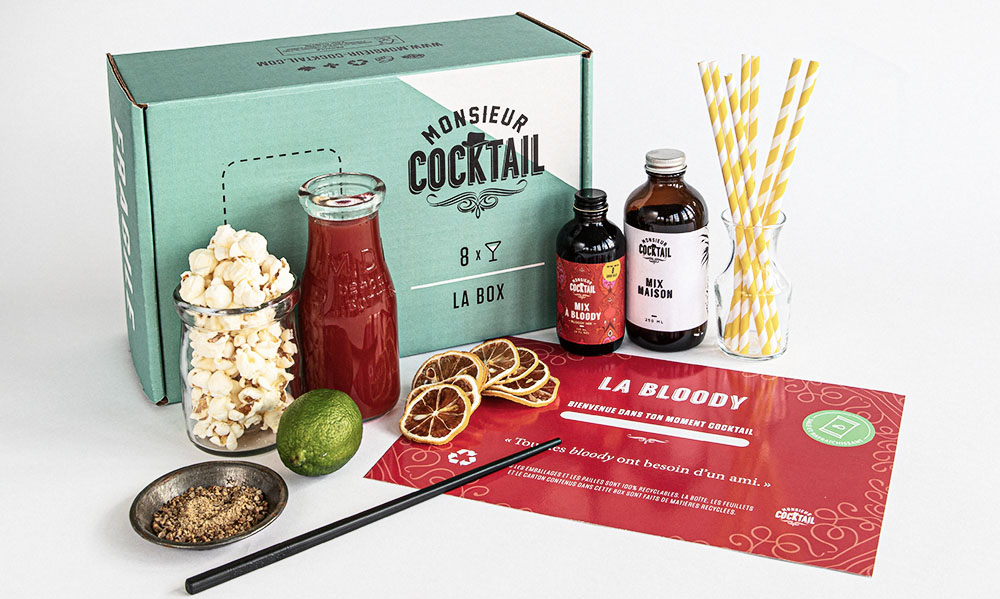 Back in November, Monsieur Cocktail, the Quebec company that brought cocktail syrups to stores across the country, launched their first subscription box, La Box. This ready-to-mix box is part of Monsieur Cocktail's mission to simplify mixology so that home bartenders everywhere can enjoy great drinks.
Each monthly box comes with everything you need – ingredients and recipes – to prepare eight servings of a single cocktail. The box itself is made of 100% recycled material; they use as little paper and plastic as possible, and everything, including the box, is recyclable. The utensils are washable and reusable, the straws are made of paper and Monsieur Cocktail even offers tips on how to use the leftovers in order to combat food waste. This is all in keeping with Monsieur Cocktail's green initiative.
The ingredients are all-natural syrups, cold-pressed juices, Monsieur Cocktail's famous cocktail mixes, lengtheners, bitter, fresh or dehydrated citrus and more. The only thing missing is the actual alcohol – you have to provide that yourself, though each box does come with a list of suggestions from Quebec's lovely spirits.
La Box comes in five different taste profiles: salty and refreshing (La Bloody), sweet and fruity (La Fancy, L'Exotique and La Box Licorne), bitter and refreshing (La Classique), acidic and refreshing (L'Effervescente, La Tendance), and bitter and strong (La Gentleman). They also had a seasonal box on offer for a limited time; over the holidays it was La Boite a Bonhomme, with flavours of snow and winter. This means you have a lot of options when it comes to selecting your subscription and can ensure your box meets your taste preferences.
If you're not keen on committing to a full subscription, each box is available to order individually. Which is nice, especially if you're not sure which flavours are your favourite.
We tested out their "La Box Licorne", which means The Unicorn Box, to find out if they live up to the hype. And the overall answer to that is… yes, yes they do. The mixes and recipes are easy to make. The box would be a great addition to any party. Plus, they taste great without alcohol, too, for those of us who are not imbibing this season.
Monsieur Cocktail La Box / Price Varies