Soundcore Spirit Sports Earphones by Anker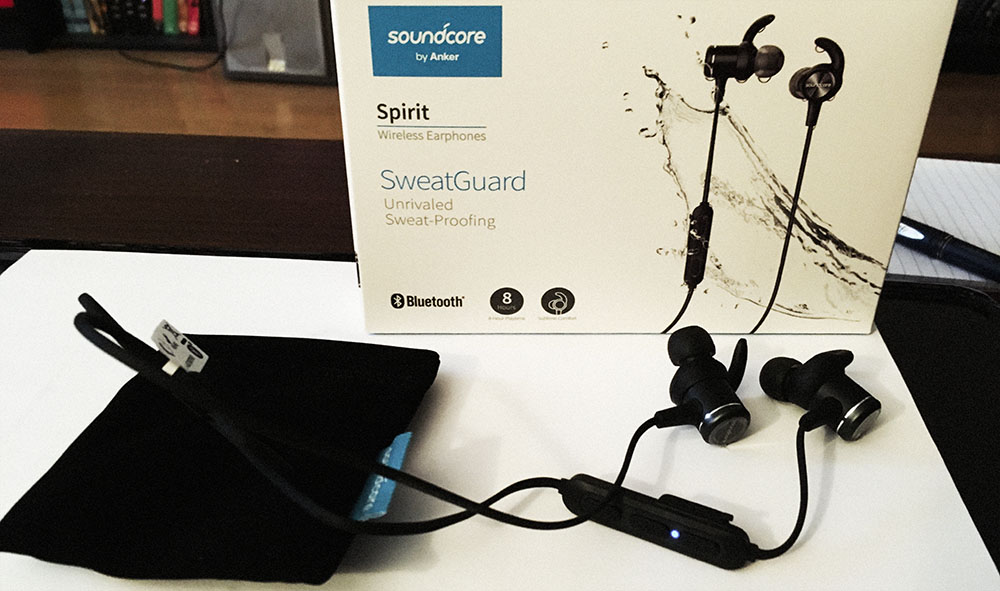 A few months ago, I had the opportunity to test out my first pair of bluetooth headphones – the SoundBuds Curve by Anker. Those earbuds are now my preferred headphones. So when Anker offered me the opportunity to test their newest Bluetooth headphones, the Soundcore Spirit Sports Earphones, I jumped at the chance.
Upon opening, my first thoughts were that they are almost identical to the SoundBud Curve. Then I looked a bit closer. The differences are: a magnetic back, rotating shirt clip and a special attachment that lets you control the length of the wire. These differences may seem minor, but given that these headphones are designed for, well, sports, it makes a huge different.
First, the magnetic back on each bud serves a purpose – to hold the headphones around your neck when you're not using it. This keeps them secure like a necklace around your neck. Super nice touch. The only downside to the wire is that the coating tends to stick to my neck when working out.
Then, the rotating shirt clip ensures that the wire won't pull your headphones out of your ears. Finally the wire adjuster gives you complete control over the length of the wire so you have a comfortable fit.
Speaking of comfortable fit, the earbuds themselves are quite comfortable. When they were in, they didn't feel intrusive or obvious, despite how big they look in the box. I thought they would stick out, but they didn't.
Sound volume is excellent (in my opinion). I haven't turned the earphones up to full volume, though I'm certain if I did, no one would notice. The quality is a bit flat though; not a lot of bass boost going on. Perhaps that can be adjusted with your devices audio settings.
Anker claims that these earbuds are completely waterproof and sweatproof, and that they can survive stints in the washing machine. I haven't tested the washing machine thing (yet; I'll probably forget to take them out of my pocket one of these days), but I can definitely corroborate the sweat proof-ness of the headphones.
Other than all of that, the Spirit headphones work in the exact same way as the Curves – hold the button to turn on, blinking light means it's searching for a device, solid light means it's paired. Good battery life (we're talking six to seven hours of play time). Downside is also the same as the Curves, in that occasionally the sound drops out, especially when you're around other devices that are using bluetooth.
So, all in all, quality sport/working out Bluetooth headphones, especially for the price!