Crate & Barrel Pennie Chair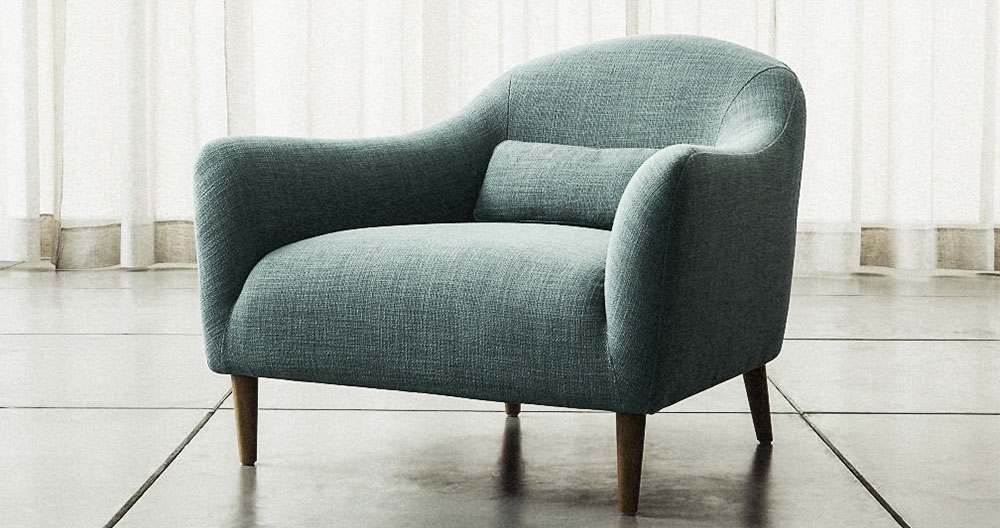 Finding a comfortable reading or lounging chair is an exciting adventure. The perfect chair for both of those activities needs to be deep enough to curl up while still firm enough that you get the back support you need for however long you decide to curl up there. For me, that length of time often borders on days – so good back support is a high priority for me (it's a bit disconcerting to get up after a reading binge and be serenaded by my own joints).
The Crate & Barrel Pennie Chair is, in my opinion, a great reading chair. It's contemporary oversized design is deep enough to tuck your feet under and lean on the comfortable arms as you read. In fact, its unique shape pretty much invites you and anyone that sees it to sit down and get comfy.
The sinuous wire springs, synthetic suspension systems, high resiliency, high density foam and polyfiber back and seat cushions are firm, but not too firm. It comes with a kidney pillow to provide lumbar support, though I would suggest investing in a second pillow just in case – the kidney pillow may not be sufficient for your needs.
Quality, contemporary design by London-based designer Bethan Gray, beautiful colour (I prefer the Cornflower over the Charcoal) and subtle textured linen-blend weave come together to give an overall aesthetic that is comfortable and easy to keep clean. It is made with certified sustainable solid wood and engineered hardwood. As I said, it is oversized, so you will need to measure your space before you purchase to make sure it'll actually fit.
Crate & Barrel Pennie Chair / $700