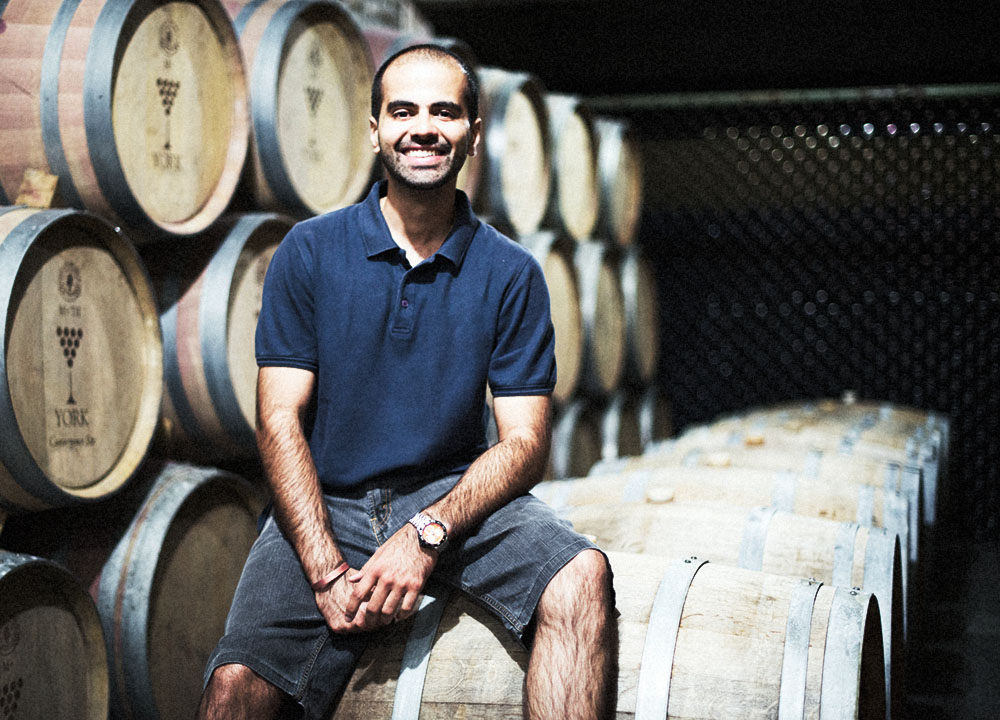 Over the past 20 years or so, wine drinking has gone global — and so has winemaking. Brave, creative souls now grow grapes and make wine in what seem to be unlikely places. My latest find was in India, where several wineries are making surprisingly good wines from locally grown grapes.
The primary growing area is near the city of Nashik, an exciting four-hour drive northeast of Mumbai. On his dashboard, our driver had a figurine of Vishnu, a small portrait of Jesus and a bobble-head Buddha, plus a Star of David on his sunvisor — covering a lot of bases, and for good reason. He bungee-jumped in New Zealand. He dove in a shark cage off Cape Town. He ran with the bulls in Pamplona. He drove in India. These activities all cause about the same degree of terror.
Once you manage to get to the wineries, you find a common thread among them: an international network. Many of the founders and winemakers were trained in California, New Zealand or Europe. All of the wineries emphasize environmental sustainability and strive to be as "organic" as possible, although the pervasive Indian air pollution is inescapable.
Benefitting from the coolness that comes with a bit of altitude (about 600 metres), the daily temperature fluctuates from cool early mornings scented with the surprisingly-not-unpleasant aromas of dung fires, to afternoon temperatures as hot as Beyoncé at the Super Bowl. The heat creates high sugar levels in the grapes, and the extreme temperature variation creates intense aromas in the resulting wines. The soil is volcanic red clay and crumbly laterite rock, enriched by natural fertilizers (they have lots of cow manure in India!). The grapes are all hand-harvested by workers who must watch out for cobras among the vines.
At about 20 degrees north latitude, the climate is so hot that the vines never go dormant. Instead, they produce two crops each year, one in March and one in July, which you would think would be a winemaker's dream. However, the July harvest takes place after the monsoon rains, and those grapes are so water-swollen that they are useless for winemaking — the wineries simply plough this crop under as compost! Hearing that brought tears to my eyes.
The largest winery is Sula Vineyards, which employs about 650 people in a very modern complex, complete with a guest house that would not be out of place in the Napa Valley. Cool jazz plays in the hallways, there are outdoor concerts and parties with international performers, plus an attractive infinity pool and a first-class restaurant that will not give you "Delhi Belly" or the "Jodhpur Jumps." However, inexplicably, they do not serve beer — and, as much as I love wine, an ice-cold lager is just what is needed on a hot Indian afternoon.
Sula's vines were first planted in 1996, and by 2011, its Sauvignon Blanc had won a silver medal at Decanter's World Wine Awards. Sula produces a million litres of wine yearly: the vast majority is consumed in India, but it also exports to 22 countries. Other notable nearby wineries include York, which produces some 500,000 litres annually and makes a nice Cabernet Sauvignon/Shiraz blend, and Soma, which produces about 85,000 litres and makes good Chenin Blanc and Shiraz.
Among many other good reasons to visit India is the exotic and fragrant cuisine. It is surprisingly easy to cook at home, though, if you take the trouble to source out a few special ingredients. I used to think that good wine matches were impossible due to the complex and sometimes fiery spices used, but Indian wineries are successfully rising to that challenge. Try these or similar wines with Indian fare, accompanied by Basmati rice and/or warm Naan bread.
A few final words of advice if you tour these wineries: do not talk about how well red wine goes with a beef steak — I'm afraid I rather put off one of our hosts.
Sula Sauvignon Blanc 2015 ($15)
Clear, lemon-pulp yellow with an intense nose of cut grass, pineapple and red bell pepper. Unmistakeably Sauvignon Blanc with higher acidity and more subtlety than a New Zealand version. Crisp acidity over gooseberry, pineapple and passionfruit flavours.
Sula Dindori Reserve Shiraz 2014 ($20)
Nearby Dindori is reputedly the best grape-growing region in India. Aged 8 months in American oak, this wine is a very deep purple with a nose of black pepper, smoke, blackberry and a bit of green stem. Medium-bodied with lots of fruit, high acidity and pleasant, soft tannins.
Sula Dindori Reserve Viognier 2015 ($15)
From select blocks of vines, and includes 3% Rousanne. Nose of peaches, apricots and flowers with good acidity but catering to local tastes with some residual sugar. Apple flavours and more peaches on the palate.
Sula Riesling 2015 ($20)
The high diurnal temperature variations make Riesling work well despite the hot climate. Sula is the only Riesling producer in India. Pale yellow, with aromas of lime and lemon. Winemaker Ajoy Shaw, a microbiologist who has worked in California and Burgundy, recommends this wine with Indian food due to the bit of residual sugar on the palate and the low alcohol level, which both work well with Indian spices.
Sula Brut ($15)
Made using the méthode Champenoise and fully dry, an unusual blend of Chenin Blanc, Pinot Noir and Viognier. Nose of ripe apple and toast with lemon and green-apple flavours on the palate.
York Arros Cabernet Sauvignon/Shiraz 2012 ($20)
A reserve bottling, this wine is deep garnet with a nose of cassis, raspberry, smoke and fresh black pepper. Barrel-aged for 1 year in French and American oak, it has lots of fruit and a capacity to age.
Soma Vineyards Silver Chenin Blanc 2014 ($15)
Pale, silvery yellow and smelling of peaches and citrus. On the palate, more peaches and a little residual sugar balanced by some interesting bitter almond on the finish.
Soma Vineyards Shiraz/Cabernet Sauvignon 2014 ($15)
Very deep crimson with blackberry, cassis and herbs on an attractive nose. Tart raspberry, plum and smoky flavours from 8 months of aging in new, medium-toast barrels. Soft tannins and good acidity provide structure.