Inez Cook's recipe for Sage-Smoked Salmon Burgers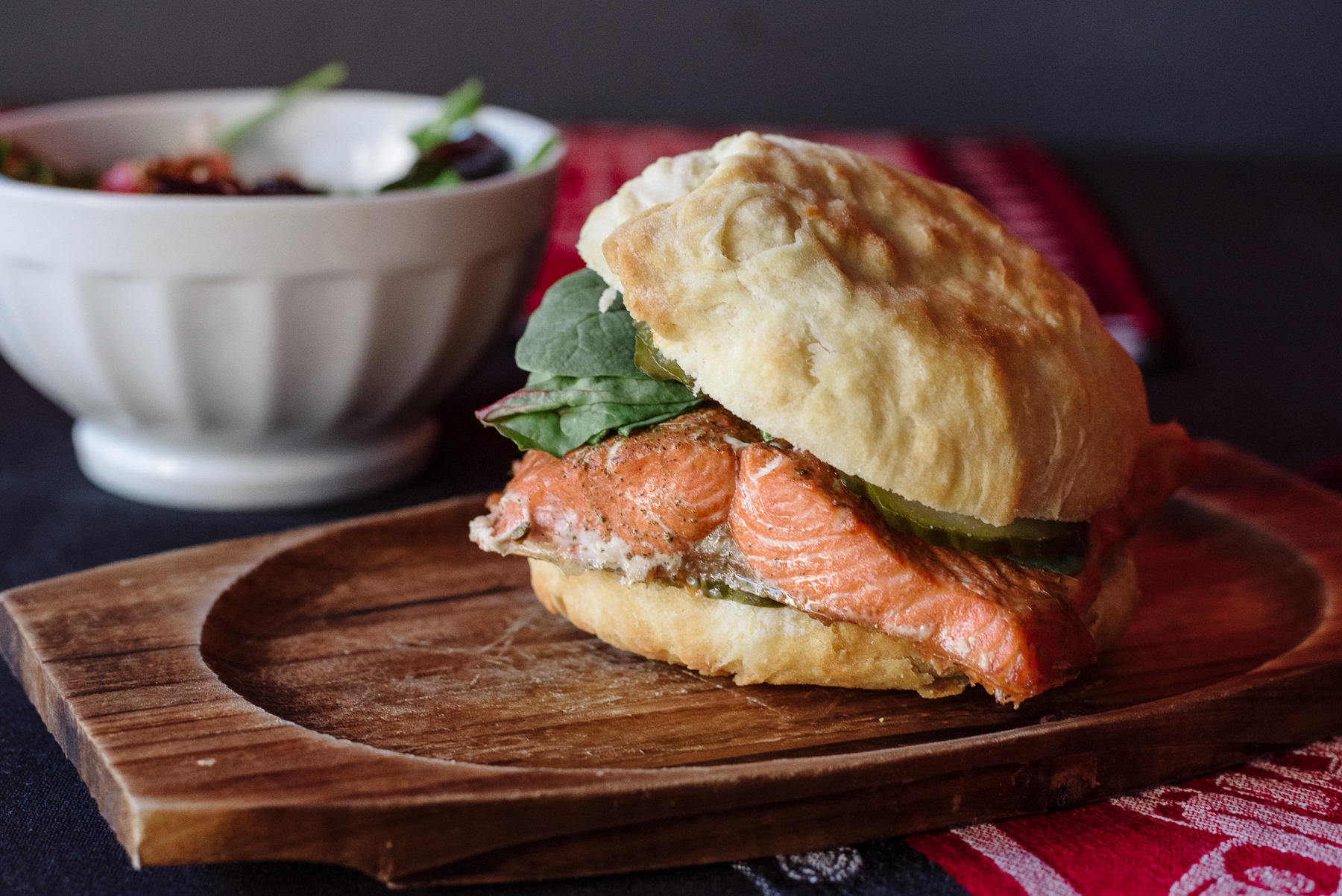 Oven-baked bannock:
1½ cups (350ml) unbleached, all-purpose flour
1¼ tbsp (19ml) baking powder
¾ tsp (4ml) salt
2/3 cup (160ml) cold water
Canola or sunflower oil for brushing
Sage rub:
1 tbsp (15ml) ground dry white buffalo sage (leaves can be purchased from online retailers)
1 tbsp (15ml) ground juniper berries
1 tbsp (15ml) ground bay leaves
1½ tbsp (22ml) ground dry dill
1¼ cups (310ml) brown sugar
1 cup (250ml) sea salt or kosher salt
Handful dry white buffalo sage
6 salmon fillets (5 oz each or 142g)
Pickles, arugula and mayo to serve
Method:
For the bannock, preheat the oven to 400F (200C).
Mix the dry ingredients in a large bowl.
Make a well in the middle and add about half the water. With a sturdy spoon, start incorporating the flour mixture, beginning with the walls of the well. Once the water is incorporated, add more water as needed and continue to mix until the dough is sticky. Do not over mix.
Sprinkle a generous amount of flour onto your work surface and form the dough into six puck-sized portions.
Oil a baking sheet and place the bannock directly on the sheet. Brush the entire surface of the dough with oil. Place on the middle rack of the oven and bake for 10 minutes. Flip and bake for an additional 10 minutes or until lightly golden brown.
Meanwhile, assemble your "smoking station" by placing a small fireproof bowl in a large deep-dish container big enough to hold both the salmon fillets and the bowl. (A metal roasting pan works well for this, with the small bowl placed in a corner.)
Grind the rub ingredients in a pestle and mortar, herb or spice mill, then coat each salmon fillet. Place the fish in the deep-dish container and add a handful of white buffalo sage into the small fireproof bowl. In a well-ventilated space, away from smoke detectors, light the sage and quickly cover the container with a lid or a sheet of aluminium foil. Allow the salmon to smoke for 20 minutes. Relight the sage if you desire a smokier flavour.
Remove the lid or foil along with the fireproof bowl and place the salmon in an oven preheated to 425F (220C) and cook the fish for 8-10 minutes, or until almost baked through.
To serve:
Slice the bannock in half, add the salmon fillet, and top with your choice of arugula, pickles, and either garlic, lemon or regular mayonnaise.
Serves 6.