This article originally appeared in the Spring 2022 print issue of Quench Magazine.
Pratha, pronthi, parotta or even buss up shut; these are just some of the names for glorious layers of cooked dough.
Native to the ancient culinary traditions of South Asia, the paratha lives in various forms across India, Pakistan, Nepal, Sri Lanka and Bangladesh. With ancient trade routes, colonization and the resulting migration of In-dian natives, these culinary traditions have travelled and evolved in regions all around the world. From India, to Africa, South-East Asia and all the way to the Caribbean Islands.
Often made with a freshly kneaded whole grain wheat flour dough or atta, the paratha is essentially a layered unleavened flatbread. A dough is rolled out, stuffed with a filling or just coated with ghee/oil, and coaxed on a hot flat oiled griddle called the tawa, turning it into a crisp buttery paratha. It acts as a vehicle to carry a variety of sweet, savoury, seasonal and regional fillings. From spiced vegetables to a simple paratha with a smattering of ghee and herbs it is a much beloved and indulgent breakfast staple of the sub-continent. The dish is especially dominant in the bread-basket wheat producing region of North India, and can be the perfect accompaniment to most Indian meals.
Because of its versatility, the paratha has adapted to various formats in these regions and can be found dotted across the subcontinent in innumerable forms, textures and flavours, carrying with it endless hyperlocal possibilities. Southeast Asia has roti canai, Kerala boasts gorgeous layers of white flour Malabari parotta. There are tandoor-made buttery kulchas in Amritsar, and Gujarat with its bittersweet methi theplas, and we can't for-get Kolkata's Mughlai style kheema paratha with spiced minced goat meat. The paratha of each of these regions reflects its unique culinary history, showcases their available produce, socio-economic background and often varies with the seasons.
The manner of eating parathas is just about as diverse as the methods of making them – they can be eaten with pickles, dunked into spicey hot chai, tamed down with creamy yogurt, or elevated with a shmear of all man-ner of preserves and chutneys. Parathas are wonderful to mop up warm bowls of spicey regional gravies made with vegetables, chickpeas, meat or beans. Or you can eat them as is.
The textures of a paratha could range be-tween soft and pillowy to almost laminated, crusty and buttery – even a delectable mix of both. A comfort food in its own right, parathas would sit nicely in roadside dhabas, along highways as wholesome meals and even next to crispy-crunchy street snacks and chaat of the metro cities.
Chitrita Bannerjee in her book Eating India: Exploring the Food and Culture of the Land of Spices speaks of her visit to the Parathewali Gali in Old Delhi's Chandni Chowk. In describing the paratha she says, "Dough is usually rolled out into several layers, each brushed with fat and folded into triangular, square or round shapes and fried in a pan." Bannerjee writes further that while we associate the paratha with mostly Punjabi and north Indian cuisine, it's believed to be a close cousin of the poli from Maharashtra and Gujarat.
What she is referring to is the earliest recorded mention of a flatbread of this kind, the puran poli, in the 12th-century Sanskrit text called the Mānasollāsa. In a chapter devoted to food, the text speaks of a paratha made with wheat flour that was stuffed with jaggery and gram paste, that is today called the puran poli in Maharashtra and holige in Karnataka. K.T. Acharya in his book, The Story of Food refers to these as an early form of stuffed parathas.
Aloo Paratha
Even the problematic colonization of the Global South by European imperialists has enriched and added to the parathas most beloved of renditions – the aloo paratha. Arguably one of the most popular forms of the paratha, it is made with a mixture of spiced, tempered mashed potatoes and chillies stuffed within layers of wheat flatbread. It is then griddle fried to a golden-brown perfection with dollops of ghee.
This is very much a product of the New World incorporated into traditional Indian-origin culinary repertoire. Not native to India but indigenous to the Americas, potatoes and chillies came to India with early Portuguese traders and eventually became large-scale commercial crops. The landscape of Indian cuisine now would be unrecognizable without the inclusion of these two items.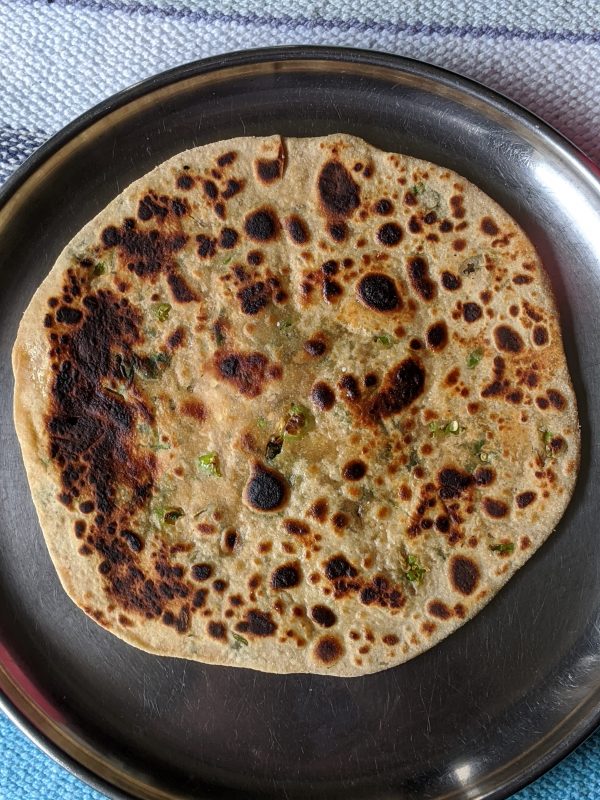 With potatoes becoming the affordable daily starch vegetable over the course of the last 500 years, its consumption is now very much a part of daily Indian cooking. Particularly, in the context of the aloo paratha, it now has cult status. The aloo paratha can be found being made within tandoors in dhabas along the national highways of India, as much as at home on a stovetop tava.
Recipe and Technique
The key to an excellent aloo paratha is a similarly excellent aloo filling. Since it must be filled within a dough casing, the aloo filling would necessarily need to stand up in terms of flavour and spice to be able to taste it through the dough and not seem underwhelming.
Universally, most recipes would involve mashing boiled potatoes and seasoning them with a bunch of spices before stuffing it into rolled out flat breads. While that would be perfectly delicious, I would recommend you go the extra mile to enhance and elevate the aloo filling masala in question. The technique I propose (one that my mother came up with) involves actually sauteeing the mashed potatoes in a hot wok with a beautiful tem-pering of cumin and minced green chillies. Truly a case of a few ingredients turned into something extraordinary with just a bit of care. The recipe I propose involves three main components – potatoes, chillies and a tempering of desired spices. You really need nothing else if these components are well treated.
All this means is that you roast the mash in a bit of tempered oil, stirring and scraping soft roasty bits from a highly heated wok. More importantly, you also cook and bloom the dry powdered spices added to the mash, which would otherwise remain in their raw and unactivated form. There are few things worse than uncooked dusty dry spices.
This process turns the potatoes from a fair mush to a golden brown, developing a thin delicious crust from the heat of the hot wok – the process we refer to as bhuna in Hindi. The said mixing and scraping also activates starches in the potatoes, making them fluffier, smoother, and more cohesive. As the potatoes bhuno, you add in the dry powdered spices along with salt. Maybe some crushed red chilli fl akes and something tart to balance the spice – dry mango powder is delicious, perhaps some black salt to fi nish, and maybe even sumac. Once done, this aloo masala would be decanted, generously showered with chopped cilantro and left to cool off in a corner.
Could you do a tempering of fennel seeds instead of cumin, with dried red chilli fl ake instead of fresh green chillies? Of course. Could you add sumac instead of dried mango powder? Absolutely. Make it yours, with the spices and tart elements you most adore added to the potatoes.
With this method, you will end up heightening the flavour of the potatoes tenfold and also ensure that your spices are actually cooked through, activated, and not just thrown in raw. Since the filling goes inside a rolled-out roti, the flavours of the filling mute down, which is why they have to be powerful enough in themselves to stand out despite being covered inside a roti. This technique is entirely game-changing, based on the understanding that unless your potato stuffing is fantastic, the paratha cannot possibly be. If we wouldn't eat plain mashed potatoes with raw spices dusted in as is, then we shouldn't be using it as our stuffing.
Click here for Lata Amesur's (Amrita's mother) aloo paratha recipe.
---
Amrita Amesur is a corporate lawyer who is deeply passionate about food. She has spent the last year dedicatedly studying and documenting all of her family's food experiences, while learning to develop her own voice as a cook and a writer. Her favourite comfort food is ghee idli podi and her go-to restaurant that never disappoints is Café Madras in Bombay.