This article originally appeared in the Winter 2021/2022 print issue of Quench Magazine.
The story of British Columbia's modern wine industry—albeit remarkable in terms of its rapid growth and success—is usually portrayed as one of risk-taking, combined with an abundance of unbridled optimism. Yet, often missing from the narrative of 40 or 50 years ago are the very real hardships endured by immigrants who worked in the orchards and vineyards of their adopted homeland.
The South Asian community, in particular, has played a pivotal role in the Okanagan's growth. Many families who came from farming backgrounds (often in Punjab) brought their agrarian skills to bear in establishing and nurturing vineyards, especially during the shift from hybrid to vinifera production. As Karnail Sidhu of Kalala Organic Estate Winery puts it, "I'm from a state [Punjab] that has only 1.5 percent of [the] total landmass, [but] we produce 70 to 80 percent [of the] food for the whole country [of India] — I think we know something about farming."
For most, if not all in the community, the Eurocentric culture that shaped every aspect of viticulture and winemaking was indeed foreign. Gold Hill manager Navi Gill recalls: "There were lots of challenges because my parents had no idea what wine was. We never drank wine. You would just hear about it." When Gill's great-uncle first arrived in Canada (in the mid-1960s), like many Indo-Canadians he worked in pulp and paper mills around Fort St. John before moving to the warmer lower mainland and then the Okanagan.
"He worked as a labourer in the vineyards and orchards from Penticton to Cawston—often for Portuguese families. Once he had saved enough he bought his first orchard in Oliver, in the late '70s."
Gill's uncle came in 1984. He too worked as a labourer, before buying a 15-acre parcel in Osoyoos (now home to the winery) with Gill's father, who arrived in 1987 and worked also as a labourer. Originally the family had a farm on Lakeshore Drive (now the site of Walnut Beach Resort). "At the time Poplar Grove was expanding. Tony Holler and Ian [Sutherland] convinced my dad to start converting to grapes (in 2005)," he says. That, in turn, led to building Gold Hill, which made its first vintage in 2009.
"My family comes from a farming background; literally every generation was farming. It's second nature… we've been very successful in adapting to growing grapes and are known as some of the best growers in the valley," says Gill, who truly believes the grapes planted in the last decade "showcase what we can do best—and are becoming known on the world stage."
"We came here in the late '60s and early '70s. Our background has always been farming. It's a big part of
our culture and heritage," says Volcanic Hills president Bobby Gidda. "We like to be outside and play in the dirt! That's where our family's passion has been for generations."
Originally, the family was one of the largest apple growers in West Kelowna, growing 3000 bins of apples annually. As to how the family got into grapes, Gidda's parents heard of an opportunity to look after an existing vineyard and harvest the grapes. At that time, it was government-funded, he says, so they just had to get a certain sugar level and were paid by weight.
"Once the great pull-out happened, we really enjoyed working with the wineries at that time. When we said we wanted to do it properly they told us the grapes we should be planting. As we learned more, we developed a rapport with all the wineries. After we had produced the vintage the winemakers would show us what we'd achieved."
By the early 1990s the family had 250 acres under vine, supplying the likes of Jackson Triggs, Mission Hill and Gray Monk. "Most were very encouraging and willing to teach," says Gidda, "even if, at the time, the wines weren't that great, with the government subsidies ongoing. But once that changed the quality began to emerge."
Those relationships included Allan Marks, the first winemaker at Mount Boucherie, as well as with Eric Von Krosigk (at Summerhill), and Elias Phiniotis at Domaine de Chaberton, as well as Gehringer Brothers and more.
"With all these wineries we had great relationships and they really helped us. When we built Mt. Boucherie we went to many of them for advice.
After the brothers went different ways in 2008, the plans for Volcanic Hills took shape, with the winery opening in 2010.
It continues to be a family affair, says Gid-da. "My Dad is still hands-on and my cousin helps my dad on the farming side, while my brother, sister and myself all work here. My wife is the book-keeper. But she's also designed some of the new labels for our new Gidda Family Estate reserve tier wines."
He adds that it's encouraging to see the number of Indo-Canadian wineries grow since 2000, with some eight or nine operations currently flourishing.
Suki Sekhon (owner, Vanessa Vineyards) also comes from a long line of farmers who originally hail from Punjab.
However, it was his background in commercial real estate that first got him interested in wine, as he initially investigated the possibility of leasing vineyards. In the process, he came to understand the Okanagan's potential, especially the growing demand for quality red grapes and decided to plant his own vineyard. Also, says Sekhon, his Sikh heritage played a role.
"In my mind was the idea to buy land, farm it and keep it for the next generation." He refers to the group he put together as the 'Dream Team,' with the late Harry McWatters, viticulturists Richard Cleave and the late Robert Goltz all consulting.
"I said let's find the best vineyard site in Canada where we can grow the best grapes we can. We went all over, to Kelowna and Osoyoos, but eventually ended up going to the Similkameen, where I'd actually never been. But I fell in love with the site which we eventually bought."
"I said to the boys, "Guys, let's go plant it! And they said, 'You know you have to order plants?' And I said, 'OK, how hard can that be?' And they gave me the book of all the different root stocks. And then they tried to convince me to grow half white and half red—for cash flow purposes. I said: 'You told me this was the best red site but you want to plant it half to white! If I want to grow white grapes I'll go buy another vineyard!'"
After a few years, when Peller Estates (who purchased most of the fruit) started to consistently win medals with their Small Lots label, Sekhon decided it was time to get into the wine business properly. He engaged Peller winemakers Howard Soon and Karen Gillis to make the first vintages, and eventually opened the winery in 2015. Soon officially became Vanessa's winemaker on his retirement from Andrew Peller in 2017.
"As kids, we would go to the blueberry and strawberry farms. Back in the '50s and '60s a lot of the Punjabis were immigrants and farmworkers. So, if you go back to our heritage, it would be we worked on the farms. Now when you go up there (to the Okanagan) you find the Punjabis own all the land!"
"Kismet" or destiny best describes stumbling across Canada's emerging region, to do what you've always done: farm. For Sukhi and Balwinder Dhaliwal at Kismet Estate Winery, transitioning from growing crops like corn, rice and cotton across three harvests in Punjab to wine grapes with a single harvest was just a matter of learning.
According to Sukhi, "The first thing, we just didn't speak English when we came from India, that's a hard part…but then we learned everything; a totally different business — we never worked in vineyards in India, we didn't even see a vineyard in India." Sukhi's brother and business partner, Balwinder adds, "We came here, we learn, we work hard, and now we're in this business. You watch."
Arriving in Oliver in 1991, the brothers found a vineyard job in '92. From there, they worked their way up to management until they bought their first 10-acre property. Fast-forward and "we're close to 400-acres right now — I think the third largest grape-grower in the South Okanagan," share the brothers. Together they supply high-quality grapes to everyone from Mission Hill to Peller Estates, Blasted Church to Red Rooster.
The remaining crop is used to produce Kismet's 8,000 to 10,000 cases. Not only does this preserve the grapes' market value, it yields an opportunity for the family to share their story. As Operations Manager Neelam Dhaliwal puts it, "Kismet is essentially a passion project, the storytelling base to tell our story and put our quality in the market. Top-down, people think about the winery before they think about the grower," and so Kismet bridges that gap
Organic farming runs through the veins of Karnail Sidhu. Shortly after moving to Cana-da's west coast from the tiny village of Kalala (Punjab), Sidhu discovered his engineering diploma was void. And so, it was time to resort to plan B — his farming roots. Scour-ing the Okanagan in search of work, Sidhu bounced around orchards, vineyards and packing houses before securing a position at Summerhill Pyramid Estate Winery.
Attributing much of his success to his time at Summerhill, Sidhu explains, "that's where I got a platform to grow — I worked there for over ten years." He continues, "they liked my work ethic…I am known for never saying no to anything!" So, it's no surprise that Sidhu rose to the ranks of vineyard manager after completing a viticulture course, before leaving to start Kalala Organic Estate Winery in 2006.
The journey wasn't without obstacles. "The biggest challenge was about wine — talking about wine, tasting wine because back home, very honestly, I don't know what the wine is [was]. We were growing sugar cane, rice, we did everything. My dad was [a] really good farmer, and I learned a lot from him — it didn't matter what kind of crop, they need good aeration. So I learned from him how to manage vineyards."
Despite his stellar grape growing reputation, it hasn't been easy to shift bias-fuelled perceptions and behaviours from consumers either. "People sometimes think you don't have the knowledge you're supposed to because [of] your colour." Sidhu went on to share a tasting experience, where the patron commented how 'it is better than I thought.' "I refused to give her the next taste [and asked] why it shouldn't taste good? She doesn't have any [answer]. The wine she was tasting that time won ten different medals from ten different competitions and was written in different places as one of the best examples of Gewürztraminer in Canada [at] that time." But comments like those do not deter Sidhu from building a more inclusive wine industry: "Organic shouldn't be expensive. We're doing everything organic[ally], and we are certified. To me, food should be affordable to everybody — it should not discriminate. That's why we kept our price, so everybody can afford it."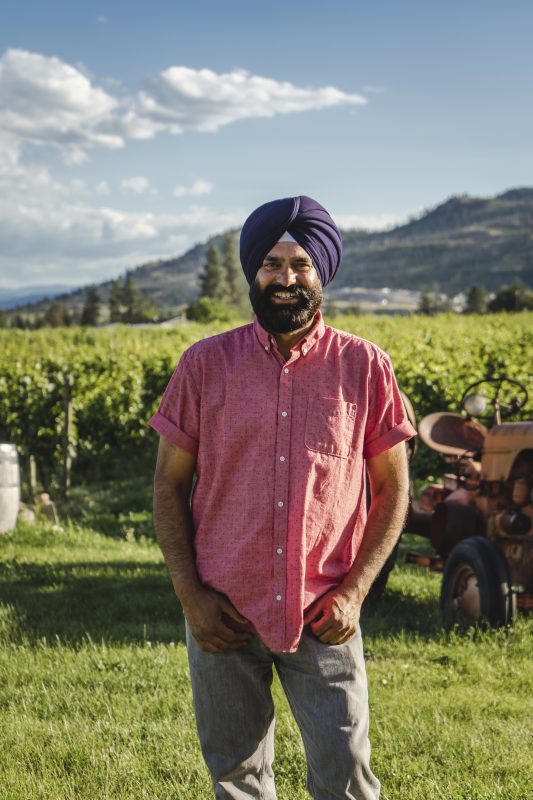 When it comes to Eau Vivre Winery, the back-story is a little different. Born into an Indian Army family, Sukh Bajwa moved around a lot as a child. "Every time we went on summer vacations to the village [Batala in Punjab], they [his uncle] would ask me to help out and do things [around the farm], and [I was] like 'Nah, I'm too educated [in civil engineering] for this.' I'd help out for a month or two months that I was there, but I was never really interested in it. And now, I'm 50 years old and all brown from working in the sun," he recalls with a laugh. With impeccable timing, Neetu, Sukh's wife and business partner adds, "I call it a midlife crisis!"
Marrying in 1996, Sukh joined Neetu in Squamish in 1997. Visiting the Okanagan Valley in 2005 for two to three days of non-stop winery hopping, "we were just hooked. It was over, right?," says Sukh. "The real passion for wineries started when we almost purchased something in Mendoza, Argentina. In 2009, we took a trip there, and I was like, I'm not going back home!," Neetu interjects. After searching for a boutique winery for several years, they took over Eau Vivre in 2017, "that was our dream come true," she beams.
And now it is a case of trial and error with the help of a consultant. In Sukh's words, "I had no idea how to make wine, so we have a consultant. He comes in once a week or once every two weeks, wherever it's required. He's the one who's teaching me — it's been three years since he's [been] on board with us. I'm learning more every day; every year, every vintage, I learn more. He's slowly stepping back as I learn more. It's a nice, neat journey, [where we're] learning a lot."
The journey from labourers to winery owners has sparked a new generation of Canadians to rise within the industry. That is particularly the case for Rajen Toor from Ursa Major Winery; a first-generation winemaker literally born and raised on his family's estate vineyard in Oliver.
The Toor family first arrived in Winnipeg in the 1980s, "driving cabs, sewing, [working in] life insurance and all
that random stuff" before reverting to their farming roots that spanned generations in Punjab. Eventually moving to the Okanagan in 1988 to farm the land as apple orchardists, the family was approached by Langley-based Chaberton Estate Winery with a proposition.
As Rajen recalls, "They said if you guys are willing to pull out all your [apple] trees and plant a vineyard here, we can help you get situated, help with expertise, help with consulting, and we would buy all of your grapes. So that seemed like a no-brainer. I was very, very young; this was in '94. They pulled out all the orchard trees and planted the vines at our estate property. So pretty much all reds because that's what the growing area is known for, and then they were just growing grapes for this winery for another ten or so years" until the Toor brothers opened Desert Hills Estate Winery.
Rajen is now an instrumental part of the transition into farming organically. "Why would we not give back to the land after how much it has given us?," he says. "Farming conventionally for 25+ years and then continuing to do so is not really the answer. What's gonna happen is the soil is going to harden off and it's going to be completely devoid of organic material and the vines are going to start dying. The only way to preserve the land and let it keep giving is to get back to it, so feed it with organic material, ease up on the chemicals, and just be a little bit gentler on the land."
The Okanagan is a place where things are possible;often you just have to carve the path for yourself. The rise of Indian-owned wineries is a story of hardwork, partnership, farming first philosophies, and perseverance. In recent years, grape growers are stepping away from the shadows to lay the foundations for future generations to unapologetically tell their stories and take flight. It's safe to say Canada's Indian populations have not only taken their rightful seat at the table as grape growers, but viticulturists, winemakers and winery owners, too. And the Okanagan Valley is better for it.
---
Tim Pawsey (aka the Hired Belly) is a well-seasoned food and wine journalist who's spent the last few decades documenting in particular the ascent of British Columbia wine and food. He has also traveled to most of the world's major wine regions. Tim is a founding director of the BC Hospitality Association (which supports those in the hospitality industry facing financial crisis due to a health condition). His favourite travel destination is Lisbon, Portugal and his go-to restaurant that never disappoints is Le Crocodile in Vancouver, BC.
Aman Dosanj is a food and marketing geek, former England and Arsenal footballer, feminist, middle child, not your conventional brown person, adventurer, From the Wild alum, imperfect environmentalist, storyteller, and just weird enough to be interesting. She is known for her ability to educate, connect and tell stories through food, working with local farmers and producers to create edible adventures in unexpected places with The Paisley Notebook. The best concert she ever attended was Florence and the Machine in Hyde Park, London.
---
Feature Photo Credit: Supplied