If nothing else, the past year was a good one for spirits. Lingering COVID-related disruptions left many with more time to spend at home (drinking) and more money to spend (on drink). Beverage alcohol sales continued to rise in spite of the impact of COVID on restaurants and other licensees.
I was bombarded this year with more new spirit product launches, and older product revivals, than I can remember from past years. In the spirit of the season then, here are some of the more memorable tipples that passed my palate in 2022. (All bottles are 750ml unless otherwise stated.)
To kick things off in style, Dillon's Distillery markets an impressive range of premixed cocktails. Its range of Cocktail Kits (a dozen, ranging from $55 to $100) also provide plenty of options to get budding mix-masters up to speed. From the four-spirit "Dillon's Essentials Kit" to the exotic "Rosemary & Clove Whisky Sour Kit" to the perfect-by-the-fire "Mulled Rye Cider Cocktail Kit," each contain all the necessary ingredients to bring cocktail Nirvana to your home.
---
Roku Gin ($50) makes for a great base. Clean, fresh, and crisp, with mild juniper and zesty floral notes, it's elegant, creamy, and very intriguing with its inclusion of exotic Japanese botanicals.
---
The land of the brown spirits is typically where the high-proof cognoscenti cast their gaze when searching out a tipple. And in this land, whisk(e)y rules.
Having flown under the radar for too long, Canadian whisky has re-emerged as a significant entity in the spirit world, largely due to a focus on rye as the main grain in the mash. I had the good fortune to visit Alberta Distillers Limited (ADL) to be one of the first "civilians" to taste the distillery's latest expression. Reifel Rye ($50) is a "high rye" number, showing distinctive, dusty/spicy rye on the nose, with subtle hints of vanilla custard and dried fruit. Smooth, warm, mildly fruity/spicy and beautifully balanced in the mouth.
There's definitely been a North American "rye renaissance," but the reality is that corn is still king of the grains both north and south of the border. This isn't a bad thing at all, especially when you consider the Canadian Club Chronicles expressions. Starting with the 41 Years Old, the range has progressed from year to year, cumulating in the awesome "The Icon" 45 Years Old ($500). Offering up intense baking spice, dark fruit, caramel, cocoa powder, and a hint of charred wood on the nose, it segues into powerful yet elegant notes of plum, spice, and smoky dried citrus that seem to last forever. A glorious example of what a Canadian whisky can be.
---
Those who find typical American bourbons too heavy and aggressive should consider a shot (or two) of Basil Hayden Kentucky Straight Bourbon Whiskey ($60). Made from the legally-required 51 per cent corn, the mashbill for this elegant number contains a fairly high amount of rye, which adds a distinctly peppery note to the baked apple, butterscotch, vanilla, and crème brulée aromas and flavours.
---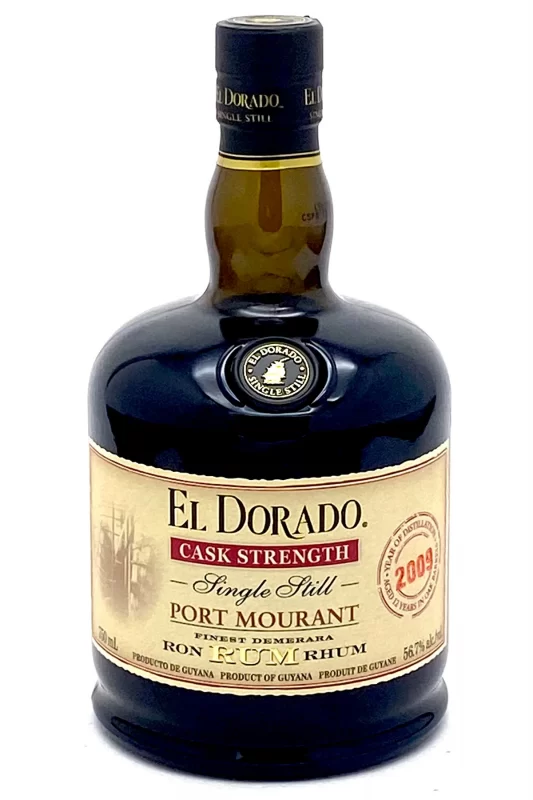 Dorado Cask Strength Single Still Port Mourant Rum 2009 ($120; 55.6% ABV). Produced using a Double Wooden Pot Still constructed in 1732 (and the only one of its kind still in use today), this will likely shock (in a pleasant way) those familiar only with the more "commercial" rums found in most North American markets. Expect to find powerful, robust flavours, ushered in by aromas of sweet baked apples mixed with slight vanilla and cinnamon nuances. These give way to suggestions of flambéed banana and coconut, with some unique peat smoke traces that appear both on the nose and on the long, sensual finish.
---
Finally, if you're leaning (figuratively) towards a nightcap, a snifter of cognac is the classic tipple, and the Courvoisier VSOP Cognac ($100) delivers layers of toasted almond, dried fruit, and spring flowers, wrapped around a silky, seductive core of flavour. Should your tastes run to something a tad sweeter, Amaro Montenegro ($31), with its blend of 40 botanicals, delivers a warm, palate-coating melange of spice, citrus, rose petal, and vanilla, that conclude in a savoury, lingering finish. You might also want to consider the Buffalo Trace Bourbon Cream ($35). Chilled, over ice, or to give your coffee some added kick (note: I did not say "morning" coffee). Velvety textured, with hints of vanilla and caramel, it's a delicious, spirited liqueur from one of Kentucky's most award-winning distillers.
---
TOD STEWART is the contributing editor at Quench. He's an award-winning Toronto-based wine/spirit/food/travel/lifestyle writer with over 35 years industry experience. He has contributed to newspapers, periodicals, and trade publications and has acted as a consultant to the hospitality industry. No matter what the subject matter, he aims to write an entertaining read. His book, 'Where The Spirits Moved Me' is now available on Amazon and Apple.