MadeGood Foods – Allergy friendly snacks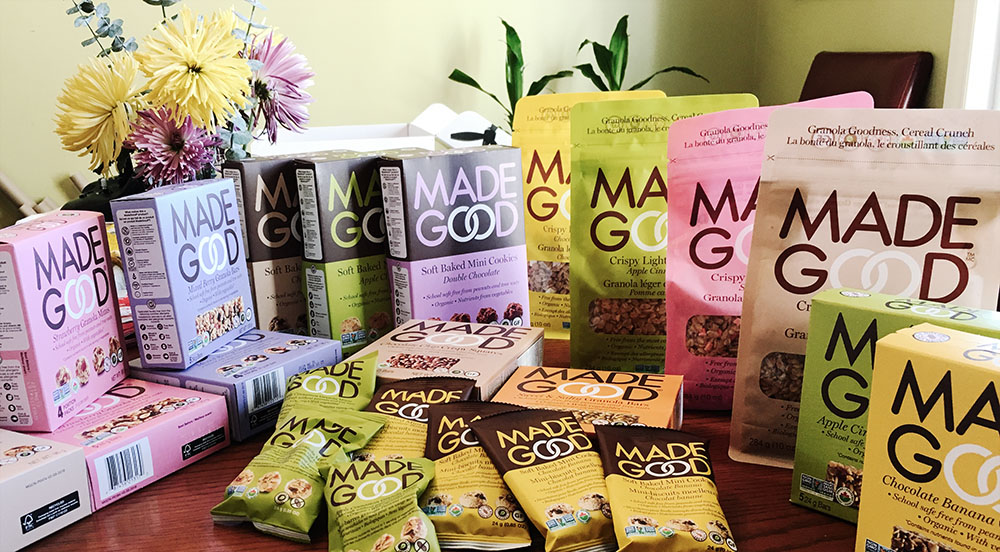 Finding healthy, allergy-free snacks to put in your kids' lunches can often feel like a daunting task alone. Add in the desire for organic and sustainable, and it can be near impossible. Riverside Natural Foods company created MadeGood Foods to help parents find snacks for their kids that check all of those boxes.
MadeGood Foods line of snacks includes granola minis, granola bars, cereal, crispy squares and mini cookies. All MadeGood Foods products are allergen free, gluten free, organic, whole grain and low in sugar. Made from all natural Non-GMO ingredients, like dried fruits, each serving (package) contains one serving of vegetables. The production facility is free from the most common allergens and safe for school.
So, even though I've mentioned putting these in your kids' lunches, they are really good snacks for adults. I received samples of all of the MadeGood products and tested the out.
Granola Bars
Available in six flavours – Strawberry, sweet and salty, mixed berry, chocolate chip, chocolate banana and apple cinnamon – the MadeGood granola bars are very very chewy, with good flavour. My favourite was the Sweet and Salty. It had a pleasant peanut butter taste with a nice sweetness at the end. My least favourite was the Chocolate Banana, as the banana flavour came across as very artificial and mixed poorly with the chocolate chips.
Granola Minis
I found these to be very dry, appropriately like a tiny piece of a granola. Mini is almost an understatement – they'd be small snacks, even for a child. There is enough in the bag to whet your appetite and serve as a small snack for your children. Four flavours here – Mixed Berry, Chocolate Banana, Strawberry and Apple Cinnamon. Strawberry was my favourite of the granola minis. The strawberry flavour comes through at the end, especially when you find it in the mini kernel. My least favourite was the Mixed Berry, only because it was too chewy for my poor molars.
Soft-Baked Mini Cookies
I found all of the cookies to be dry and very grainy, like banana bread or any sort of fruit loaf, rather than a smooth baked cookie. Like the mini granolas, the cookies are quite small, even for a child. But there's enough in the bag to serve as a nice snack. Available in four flavours – Chocolate Chip, Double Chocolate, Apple Cinnamon, and Chocolate Banana. My favourite of all these is Apple Cinnamon. They smelled like bin apples and aged applesauce and tasted like apple crisp or the inside of an apple pie. Delicious. My least favourite was the chocolate banana (again); I found they tasted like banana medicine mixed with chocolate chips, which was a weird combination in my mind.
Crispy Squares
I loved these – they're crisped rice squares (aka rice crispies). They come in vanilla and chocolate; the former is my preferred. It was less sweet than homemade rice crispies, which was wonderful since that's usually my biggest problem with rice crispies. Vanilla flavour was just right – not too strong – with an almost shreaded wheat flavour. And they had a lovely crunch.
You can purchase MadeGood Food products at over 2,000 retail chain stores in Canada.