Spanakopita: A taste of Greece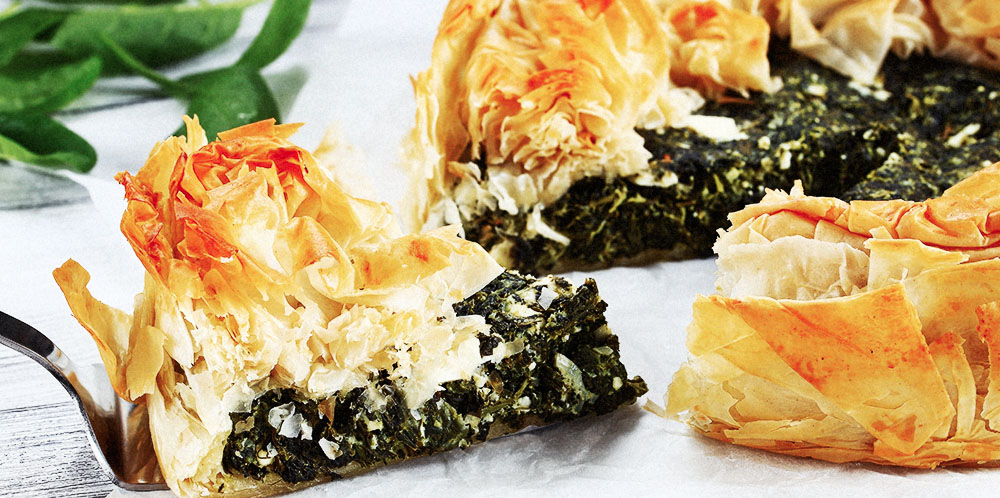 Just because you are unable to travel for now doesn't mean your taste buds shouldn't. With summer upon us, let's take a flavourful trip to Greece with a versatile and delicious vegetarian dish from a recipe that some say is over 400 years old: Spanakopita.
History of Spanakopita
Supposedly, according to Vera Abitol in her article "Greece: Spanakopita", the famed pie is of Turkish origin, introduced to Greece over 400 years ago during the Turkish invasion and then occupation of Greece. Despite the Turkish version contains some slight differences, the basic concept is the same. Though many Greek recipe date back into times of myth, it wouldn't be the full truth to overlook the Turkish influence on Greek food, especially when looking at the introduction of the Spanakopita.
What is Spanakopita?
The name of the dish tells you exactly what it is! When putting the word spanakopita together using its root words, "spanaki" meaning spinach and "pita" meaning pie, you get a spinach pie. Spanakopita is a triangular pita-pie stuffed with spinach and feta cheese as well as onions and various seasonings.
Things to Remember
When making Spanakopita, it is important to remember that the filling is not supposed to be overly salty, but it should lean more toward the sweet side. As Elena Paravantes explains in her article "Authentic Greek Spanakopita – Spinach and Feta Pie", you must also be sure that the crust can hold the filling so also be cautious of the ratio.
The phyllo/pita crust is messy – it becomes crunchy and will break. If yours does, that's ok. It's supposed to. That being said, you could try to bake it a bit thicker if you want it to hold together better. Results may vary.
Spanakopita at home
Elena Paravantes lays out the recipe further on her website Olive Tomato.
1 lb spinach
1 onion, finely chopped
2 tbsp olive oil + some for pan and phyllo
2 tbsp each parsley and dill, chopped
1 tsp sugar
1/4 tsp fresh mint
1/4 tsp nutmeg
10-12 oz feta
3 eggs
12 phyllo sheets
To begin, preheat your oven to 350°F. Place a tablespoon of olive oil in a medium pan and heat it. Then add the onions and sauté them until they become soft. Once the onions are soft add the spinach and sauté it as well (for 3 or so mins). Add the parsley and dill, sauté a few more minutes, and then set aside to cool.
Grate half of the feta and crumble the rest. In a small bowl beat eggs, then add feta. Pour egg mixture into the spinach, add the second tablespoon of olive oil and mix well.
Brush a 10" x 15" pan with olive oil. Place a sheet of phyllo in the pan and brush with olive oil, repeat 5 times. Spread the spinach mixture in an even ratio. Cover with additional phyllo sheets
Score the top of the sheets with a knife. Bake for 40 minutes or until phyllo is golden-brown. Serve while warm.