Roasted Acorn Squash with Maple Goat Cheese and Pecans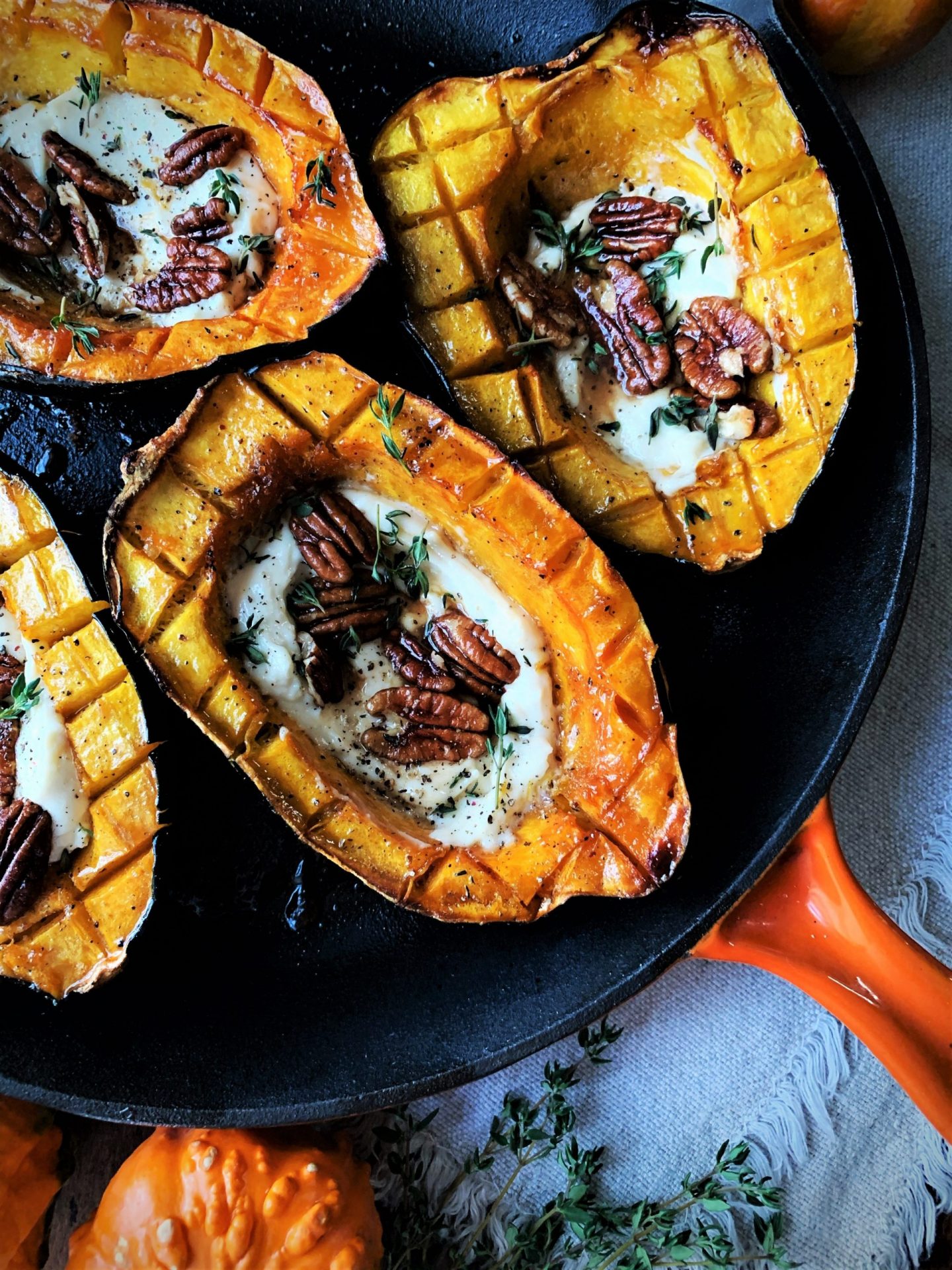 By Renée Kohlman
Recipe excerpt from Vegetables: A Love Story
This is a fantastic way to celebrate the delicate sweetness of acorn squash. It's quite pretty to look at too, making this side dish a desirable addition to any autumn and winter feast. Combining brown sugar, butter, and squash is nothing new, but I've sweetened some goat cheese and added that to the mix for a delicious twist. Pecans add some welcome texture, especially for those of us who have "texture issues" with squash. I love seeing those gathered around my table tuck into their individual squash, my mom marvelling at how it's almost like dessert. These roasted squash halves are quite delightful when served alongside juicy ham, tantalizing roast turkey, or even a platter of pot roast. They make a welcome contribution to any vegetarian feast, too.
---
Ingredients
2 small (each about 1¼ lb) acorn squash, scrubbed
2 Tbsp butter
¼ cup firmly packed brown sugar
¼ tsp salt, plus more to taste
Pepper
1 package (5 oz/140 g) goat cheese, softened
2 Tbsp maple syrup
⅓ cup pecan halves
Fresh thyme leaves, for garnish (optional)
Method
Preheat the oven to 425°F.
Cut each squash in half lengthwise. Scoop out and discard the seeds.
Carefully trim about 1/8 inch off the bottom of each half so each squash will sit flat, cut-side up, in a 12-inch cast-iron skillet or on a rimmed baking sheet lined with parchment paper.
Using a sharp knife, score the flesh of each squash.
Rub with the butter, sprinkle with the sugar, and generously season with salt and pepper.
Bake the squash until tender, about 45–55 minutes, depending on their thickness. Using a pastry brush, baste each half at the 30-minute mark with the brown sugar butter juice that will pool in the middle of each squash. When the squash halves are roasted and tender, let them cool in the pan for 10 minutes.
In a medium bowl, beat together the goat cheese, maple syrup, and the ¼ tsp salt.
Place the nuts in a small bowl. Remove the brown sugar syrup from each squash half (a ¼ cup measure works well for this) and pour it over the pecans, tossing to coat.
Fill each squash half with some of the maple goat cheese. Top with the pecans, leaving the brown sugar syrup in the bowl.
Return the squash to the oven and roast until the pecans are toasted, another 7–8 minutes.
Remove from the oven and drizzle the remaining brown sugar syrup from the bowl over each squash half. Garnish with fresh thyme leaves, if desired.
Note: For even cooking, be sure the squash are of a similar size.
---
Recipe by Renée Kohlman from Vegetables: A Love Story, copyright © 2021 by Renée Kohlman. Reprinted with permission of TouchWood Editions.
Renée Kohlman is the author of the Taste Canada award-winning cookbook All the Sweet Things (Touchwood Editions, 2017). She's a professional cook and baker and freelance food writer. On Renée's very first date with her partner, he presented her with a bundle of asparagus. She knew immediately it was love and that her next cookbook would be all about vegetables. In the summer you'll find her in the garden admiring her sweet peas and coaxing her cats down from trees; in the winter she's curled up with a book and a mug of hot chocolate. Renée lives in Saskatoon.
Photo Credit: Lisa Landrie