Mushroom Crostone with Egg Yolk and Truffle Pecorino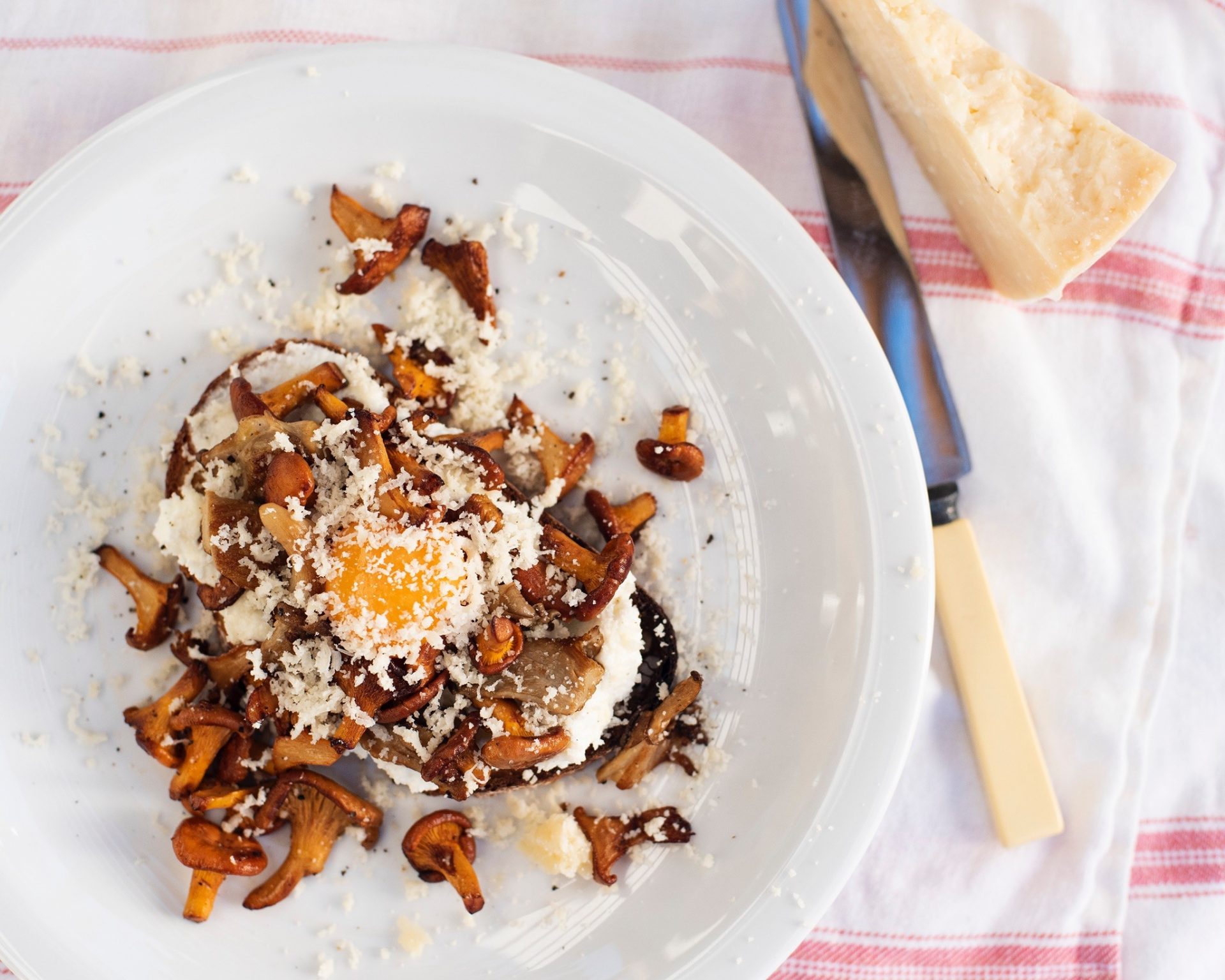 All mushrooms work great for this dish, but I particularly look forward to chanterelle season. When purchasing mushrooms, I like to speak with a local mushroom purveyor, find out what is in season and what is cleanest. A good quality mushroom should be dense and plump with a fresh smell. Avoid light-weight, dry mushrooms or soggy water-logged ones.
Try to find high quality, fresh, creamy ricotta for this recipe, however, a drier ricotta can be used with a splash of milk or cream while mixing.
Truffle pecorino has become more accessible in specialty cheese shops or grocers. There are a couple of accessible varieties. The first is called Moliterno al Tartufo which is a sharper variety that has a delicious and intense taste of both sheep's milk and truffle paste. The other, which is the variety intended for this recipe, has many names but is generally younger, softer and comes from various parts of Tuscany. If you are unable to find a truffle cheese you can substitute with Parmigiano Reggiano or another sharp, grate-able variety of cheese.
Serves 1
Ingredients:
Handful or 150 grams of mushrooms, thoroughly cleaned with a brush
1 tablespoon of olive oil
1 heaping teaspoon (7 grams) of butter
¼ teaspoon of kosher salt
Fresh lemon
6 tablespoons of ricotta mixed with ¼ teaspoon of kosher salt
1 room temperature egg
Block of Truffle pecorino cheese
1 thick slice of country style bread
Procedure:
Place the ricotta and salt in a bowl and stir until smooth and creamy. Season to taste with salt.
Heat the olive oil in a medium sized non-stick pan over high heat. Add the mushrooms to the pan, allow to fry until golden. Stir the mushrooms, however, avoid stirring very often as you want to allow the mushroom to caramelize. Remove from the heat and immediately add the salt, butter, and a light squeeze of lemon. Season to taste with salt.
Meanwhile, toast the bread until dark golden.
Generously spread the ricotta on the toasted bread. Spoon the mushrooms on top of the ricotta. Make a little well in the mushrooms in the center of the crostone for your egg yolk to sit in. Separate the yolk from the white and place the yolk on your crostone. Grate a generous amount of the truffle pecorino over the top, finish with a few cracks of black pepper.
Chef Daniel Costa is the chef/owner of Corso32, Bar Bricco and Uccellino.
photo credit Anorak Media (@anorak.media) • Instagram photos and videos