Profile: Inez Cook
This article originally appeared in the Spring 2022 print issue of Quench Magazine.
Regretfully, the image in the print issue was erroneously published as a photo of Inez. We apologize for the error and any confusion it may have caused.
---
It's unlikely anyone has done more to introduce Vancouverites to Indigenous cuisine than Inez Cook. Just prior to the city's hosting of the 2010 Winter Olympics, Cook—who is originally from Bella Coola's Nuxalk Nation—was attending the Okanagan Wine Festival. While there she noticed West Kelowna's Kekuli Café, whose 'Don't Panic, We have Bannock' sign is a fixture on the main highway.
"I said to my good friend Remi (Caudron) 'I can't believe Kelowna has a Native restaurant but there isn't one in Vancouver any more. And the whole world is coming here.'"
Even though Cook had no direct business experience in restaurants, she went to work, opening Salmon n' Bannock Bistro in 2010, with Caudron as her business partner. Launched to an appreciative audience with ongoing immense success, it remains to date the city's only Indigenous owned and operated restaurant. Two years ago, the West Coast restaurateur became sole owner.
While the Olympics may have been the catalyst, Cook says it was actually her 'day job' of 31 years that had motivated her to open her own restaurant. "As a flight attendant, when I travel I really like to try the foods of the land I'm in. Through flying, I've lived all over the world—in the Middle East, Africa and India, and elsewhere. The cool thing is that my dream always was to open a restaurant and take people on a journey."
An infant victim of the 'Sixties Scoop,' Cook credits her adoptive family for instilling in her early on a love of good food. As a youngster, she furthered her love of food by working in restaurants from age 13 on.
Salmon 'N Bannock allowed her the opportunity to explore her Indigenous past and learn more fully about her First Nations heritage. "What ended up happening is that I'm taking people on my own personal journey within. I'm learning about my own heritage and showcasing that."
Indeed, in somewhat of a serendipitous manner, it was the restaurant that helped reintroduce Cook to her birth family, as Nuxalk Nation members eventually came by to check things out.
As Cook researched her menu she discovered traditionally Indigenous ingredients (such as fiddleheads and huckleberries) are not always easy to source. But, always in pursuit of authenticity, she persevered. Today her house-smoked Sockeye salmon burger (on bannock, of course) is the bistro's hallmark—although other tastes, such as bison pot roast, are also popular. The entire team at Salmon 'n Bannock—from kitchen to front of house—is Indigenous, with people from several First Nations, including Long Plain, Muskoday, Musqueum, Nuxalk, Nuu-chah-nulth, Ojibway, St'at'lmc, Squamish and Ts'msyen—and Maori.
Last year, in the midst of the pandemic, Cook was inspired to embark on opening another outlet, this time at Vancouver International Airport (YVR). Opening this spring as part of a licensed food court in International Departures, Salmon n' Bannock On The Fly will introduce travellers to the Indigenous tastes that Cook has championed for the last decade. On the menu: a hot bison sandwich, the renowned house-smoked salmon burger, and power salad with Ojibway wild rice. It will be the first indigenous food to be served at the airport—against a mural painted by Cook's friend, noted Quw'ut-sun' artist Charlene Johnny.
When Cook talks about 'reconciliation' she prefers to refer to it as 'reconcili-action', a process in which food can play a significant role.
Ultimately, she truly believes it's "about bringing people together, breaking bannock together and learning."
---

WHERE DID YOU GROW UP:
I grew up in Vancouver but found my First Nations family later.
BEST CHILDHOOD FOOD MEMORY:
Probably my grandma's pierogis. Or my aunt's waffles!
FAVOURITE INGREDIENT TO COOK WITH:
Local ingredients. Even when I go to Paris I love going to the local market. It's about getting inspired, about the season and what's available. I love inspiring me and my team by finding new local ingredients—especially if we can use them in a different way than expected.
YOUR GO-TO RESTAURANT:
There's a few of them! Bodega on Main, Oca Pastificio (on Commercial Drive), Kissa Tanto, and Salade de Fruits.
WHO IS YOUR MOST SIGNIFICANT CULINARY INFLUENCE:
I really like Jamie Oliver. I like the fact that he was changing stuff up. Especially for the children—going into the schools and trying to get them more healthy. I mean, it starts with the children, right? I like the fact that he saw that.
MUSIC YOU LISTEN TO WHILE COOKING:
Are you kidding me! I studied radio broadcasting. I'm constantly mak-ing mixes for everybody too. I love anything 80s dance, Chicago House, probably Gay anthems—if that's a genre
WHY AND WHEN DID YOU START COOKING:
I started when I was about 12. My mom saw that I liked cooking; she got me a cookbook, and I was able to plan a menu every week. I was allowed to cook one dinner a week. But the menu had to include a salad, a main and a dessert. So every week I was allowed to choose, she would go and get the ingredients. And then I was able to make it. I loved doing that.
VISION FOR THE FUTURE:
Honestly, it's so hard. I don't think you can make your own visions anymore. COVID taught us that. I think you just have to live in the moment and do the best you can—day by day. I'm going to open at YVR. I'm going to launch my retail products. In three years the Broadway lease will be up. I'm sure they're knocking that building down. I'll be looking for a little bit bigger location eventually. And (after 25 years) I'm retiring from Air Canada this year. So, that's the plan!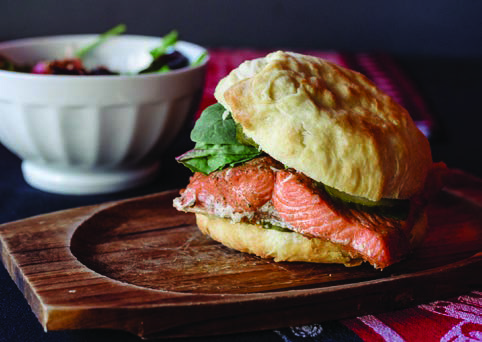 Click here for Inez's recipe for Sage-smoked Salmon Burgers
Photo credit (cover): pytphotography
Photo Credit (Salmon Burger): Matt Law