Chef Profile: Angus An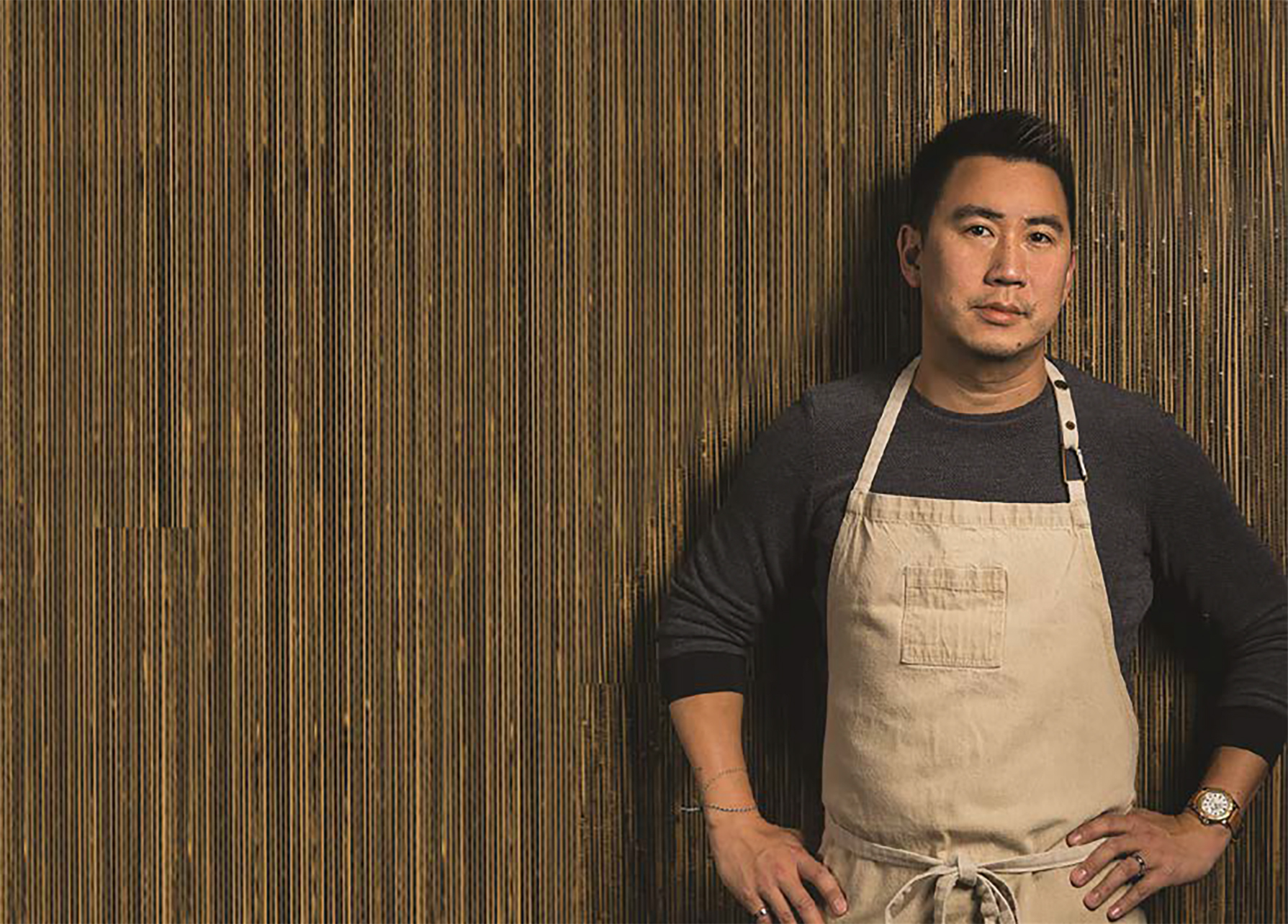 This article originally appeared in the Winter 2021/2022 print issue of Quench Magazine.
"Learning Thai food saved my career," says Angus An.
With long time aspirations of becoming an architect, An earned a Fine Arts degree at the University of British Columbia. "I was hoping to get a master's in architecture but realized I wanted to do something more hands on, more tactile that you can feel and even taste." He was weaned on the Food Network and from his first job at 15 as a busboy in a Chinese buffet, he had always worked in restaurants, cooking his way through university. "I always enjoyed that comradery in the kitchen and the fast-paced environment. I decided to turn that into a career."
He went to New York to study at what is now the International Culinary Center. After working in Montréal's acclaimed Toqué Restaurant with Normand Laprise, he headed to London.
"I was a very naïve, macho French cook and wasn't interested in Thai food. I thought it was too low end for me," he said. That is until his Aussie roommate introduced him to Nahm, David Thompson's one-star Michelin Thai restaurant. "I was quickly blown away by the quality of the food, particularly the depth and balance of flavours. I realized how little I knew about cuisine in general. It humbled me. I wanted to learn Asian techniques to build flavour in my French food but I didn't think I'd be cooking Thai food for the rest of my life."
When An returned to Canada in 2006, he and his wife Kate opened Gastropod, a modern fine-dining restaurant based on locally sourced, sustainable and homegrown ingredients. Despite much acclaim and numerous awards, it was ahead of the curve and struggled in Vancouver's fickle market. "People weren't ready for that type of dining." In 2009, he shut it
down and rebranded the space as Maenam. "From a personal creative side, I was disappointed to see Gastropod go. As a young chef, I thought the plate was a blank canvas, and I could cook what I wanted, and people would eat it. As you get older, you learn this just isn't realistic."
Twelve years later, Maenam is a Vancouver institution. An has also opened another four restaurants with the same partnership group and one – Popina Canteen – with equally renowned Vancouver chefs Robert Belcham, Hamid Salimian, and Joël Watanabe.
Equipped with a solid team, he has been able to step away from day-to-day kitchen duty and, after almost a year delay, he launched his first cookbook in August 2020. Maenam: A Fresh Approach to Thai Cooking was four years in the making. "A combination of traditional and modern Thai, it's a collection of recipes from day one – some restaurant favourites and some of my favourite recipes that never made it onto the menu. There's one for Uni Sundae, a savoury dessert with seafood. Not very Thai but fun."
As for the future, An acknowledges uncertainty due to the pandemic. "Pre-Covid, we were looking for a space for a vegetarian restaurant. I'm certainly not eager to open anything new up right now." Long-term, he is considering teaching. "We need to find a way to mould more young chefs as we are lacking in qualified cooks. I am thinking about what we do as chefs and restaurateurs to help with the educational process."
Whatever is on the horizon, in An's hands it will be boldly but elegantly seasoned.
WHERE DO YOU LIVE: Vancouver, Beautiful British Columbia!
WHERE DID YOU GROW UP: I was born in Taiwan, moved to Canada when I was 11 and grew up mostly in Maple Ridge, BC.
FAVOURITE COMFORT FOOD: My mom's dumplings and wontons.
FAVOURITE INGREDIENT TO COOK WITH: Fresh and seasonal ingredients. It's kind of general but I do just like to see what is fresh and best, I get super excited by that. Beyond that, the one ingredient I love to use at home is probably lemon, or good extra virgin olive oil.
BEST CHILDHOOD FOOD MEMORY: Every Chinese New Year, my family would prepare a feast for friends and family. We hand made dumplings and we would feast for days. I remember helping out a lot in the kitchen from kneading the dough for dumplings to making the dipping sauce. It was always so fun to see how food brings people together.
YOUR GO-TO RESTAURANT: Hard one. Cioppino's, Kissa Tanto, Masayoshi and Marutama all tie for my go-to. (Vancouver)
WHO IS YOUR MOST SIGNIFICANT CULINARY INFLUENCE: Professionally, it was chefs David Thompson and Normand Laprise. Personality and cooking style-wise they are so different, but I think I learned so much from both of them and combined this into what we serve at Maenam today. Personally, it would have to be my mom and my grandmother. I always liked to help out in the kitchen as a kid and growing up with both of them, some of my fondest memories are cooking next to them.
WHAT DO YOU DRINK AT HOME: Champagne! I love Champagne and could drink it with every meal and every day.
MUSIC YOU LISTEN TO WHILE COOKING: It depends on the mood and weather. Usually, I have a couple of easy listening stations on Spotify that set the mood while I'm cooking with a glass of wine or Champagne. But mostly, in the afternoon when I cook, my son Aidan practices his piano, so I tend to listen to him.
---