Trash cocktails: leftovers add flavour to our drinks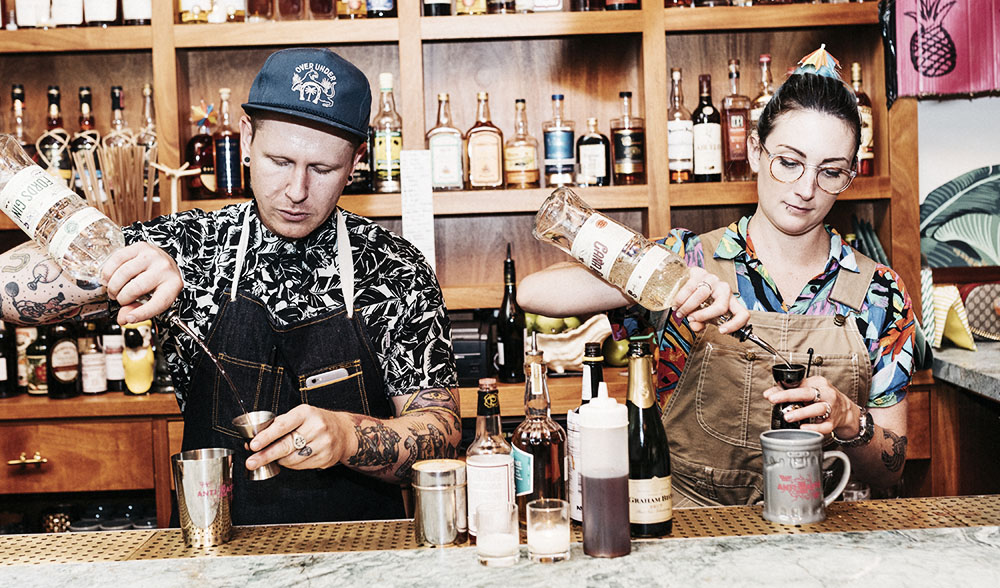 Here's a bartending question you've probably never asked yourself: What should I do with all my leftover fruit husks and citrus peels?
For most people, the answer is the green bin. But if you ask a bartender who, night after busy night, has made fresh juice for cocktails and then contemplated just how much pulp and rind winds up getting tossed, the answer is different. There's flavour in them there peels.
Most bartenders only started seeing their discarded citrus as potential flavour sources after Trash Tiki — a zero-waste educational pop-up — shone a light on the amount of waste created by contemporary cocktail culture. But Trash Tiki, a movement conceived by bartending power-couple Kelsey Ramage and Iain Griffiths, not only raises awareness but also offers solutions for how to turn trash into tasty tiki cocktails. Just as you can turn a turkey carcass into litres of delicious soup, so too can you unlock flavour from bar waste. It's catch line says it all: "Drink Like You Give a F**k."
"We both came up with the idea when we were working with the Lyan Group," says Griffiths, who famously opened cocktail meccas Dandelyan and White Lyan with Ryan Chetiyawardana in London, England. "We were always trying to be as waste-efficient as possible, but I guess we both always just looked at what we were doing and felt we could do more."
Griffiths adds that it wasn't an easy decision to step back from Dandelyan, a bar that's been voted best in the world, but he and Ramage (also part of the bar team at Lyan Group), decided to give up their homes and jobs and launch a traveling zero-waste-bartending class that, between December 2016 and March 2018, popped up in about 30 cities on five continents. After that whirlwind tour, the pair settled in Toronto (Ramage is Canadian, originally from Salmon Arm, British Columbia), where they concentrate on developing more environmental initiatives.
"What we really wanted to do with our pop-ups is give some inspiration and practical tools to the bartending community," says Ramage, "Which is why all our recipes are available on our website. They're all fairly basic and easy to execute and I think some of them even give new flavours that haven't been used in the industry before."
Ramage is referring to some of the green, funky and bitter flavours they've drawn out of discarded fruit, which can add complexity and new dimensions to cocktails — especially, of course, tiki drinks, which are the central focus of the initiative. The pair chose that genre to illustrate the concept because of its opulent use of fruit and over-the-top garnishes — serving single drinks in pineapples, for example. "Pretty much every bar that we've been to has pineapple husks," says Ramage. "So we should make a second use out of them so that you're not constantly buying pineapples, juicing them and then chucking them away."
Here, they share their recipe for "Basic Bitch" Pineapple Tepache, a fermented pineapple drink that can be enjoyed on its own or spiked with tequila or mezcal. For more recipes, go to trashtikisucks.com.
Basic Bitch Tepache
1 pineapple — rinds, pulp, core, whatever. If you have juice that you can't use at the end of the night, lob that in there as well.
1 L water
1 cinnamon stick
5 cloves
20 allspice berries
1 g (ish) yeast (brewer's is fine)
250 g sugar
Leave it all to ferment at room temperature for a few days, tasting it occasionally. The longer you leave it, the more sugar the yeast will consume and the dryer it will be. When the sweetness is at the desired level, strain and refrigerate.