The Fall and Rise of Hybrids in Eastern Canada
This article originally appeared in the Spring 2022 print issue of Quench Magazine. 
It is a truth universally acknowledged that hybrid grapes make inferior wine – or so I was told when I began studying viticulture two decades ago.
Hybrid grapes are the product of crossbreeding Vitis vinifera, for its desirable flavours, with American or Asian Vitis species, for attributes like increased disease resistance or cold hardiness. Despite their advantages, hybrids have long been dismissed as unpalatable. Excessive acidity, insufficient tannin, and off-putting "foxy" flavours were among their most oft decried character flaws.
Twenty years ago, it would have seemed unfathomable to find a wide selection of locally produced Maréchal Foch or Seyval Blanc wines on Montréal's hottest restaurant menus. In-deed, when Candide opened its doors in 2015, they were among the first Québec restaurants to champion local wines. Their tasting menu format allowed sommelière Emily Campeau to guide patrons on their discovery of these predominantly hybrid grapes. Since then, the Québec wine industry has grown exponentially, in line with support from the sommelier community. "Demand has skyrocketed," at-tests Campeau. "Everyone wants them."
This isn't simply a Québec phenomenon; hybrid grapes are inciting renewed interest across eastern Canada. "We've always called our best hybrids heritage varieties," says Shiraz Mottiar, winemaker at Niagara's Malivoire winery. "Now it is almost cool to call them hybrids again." Experimentation is rife in the wine industry today, with a proliferation of winemaking techniques and styles. Flavour profiles are becoming more diverse, consumers more adventurous. "The local community doesn't know, or care, if a wine is vinifera or hybrid," supplies Simon Rafuse, winemaker at Nova Scotia's Blomidon Estate Winery.
As cooler wine regions emerge, and grape growers seek out ways to limit vineyard sprays, hybrid grape breeding programs have multiplied across the globe. New grape varieties, with polygenic disease resistance and enhanced flavour profiles, are the result. Vineyard trials across Europe have shown such promising results that, in late 2021, the European Union issued a landmark ruling overturning a long-standing ban on hybrid use in protected origin wines.
Here at home, an interesting dichotomy has grown up between rejection and reverence of hybrid varieties. This divide is most keenly felt in Canada's largest wine producing province, Ontario.
The creation of the Vintners Quality Alliance (VQA) in the late 1980s marked the province's transition to a fine wine focus, based primarily on vinifera. As viticultural technique and site selection improved, vinifera plantings flourished. "We proved that we could grow vinifera successfully, so the industry moved that way," Mottiar explains.
Eight hybrid varieties were granted VQA status; however, they could only be labeled under the generic Ontario designation. The right to claim appellation status was reserved for vinifera varieties.
As vinifera rose, hybrids remained the region's workhorse grapes, producing higher, more consistent yields. "You can get more tonnage per acre with hybrids," says Mottiar. "They are cheaper to produce, so they are mainly used in International Domestic Blends."
Interestingly, it is a hybrid grape that makes one of Ontario's most revered and expensive wines. With its thick, rot resistant skin, bright acidity, and exuberant tropical flavours, Vidal is ideally suited to Icewine production. It is also a popular choice for a growing number of orange wines, Charmat sparkling wines, and pét-nats. According to VQA, production of varietal Baco Noir wine has nearly doubled in the past decade. And, in 2019, the cold hardy Minnesota variety, Marquette, was granted VQA status. As Ontario wine critic, David Lawrason observes, this is a real boon for vineyards in Ontario's cooler, emerging wine regions. "I've tasted some really good ones," says Lawrason, adding "I think they can be a real part of the local identity."
In Nova Scotia, winemaking on a commercial scale is a more recent phenomenon. Planted in the mid 1990s, Blomidon is among the province's older estates today. "It wasn't really until grapes like L'Acadie Blanc arrived that the industry started to take off," says Rafuse. "It is the most consistent variety for our climate," he adds, referencing its cold hardiness, resistance to rot, and early ripening appeal".

The L'Acadie Blanc, created at Niagara's Vineland Research Station in 1953, has become a flagship grape for Nova Scotia. It is hugely versatile according to Rafuse. "You can pick it early for sparkling wine, with great acidity levels, and it also makes very good, lower alcohol dry whites." When Benjamin Bridge established their vineyard in the late 1990s, the focus was on Chardonnay and Pinot Noir for traditional method sparkling wine. However, as assistant winemaker Alex Morozov explains, to "de-risk" the project, L'Acadie, Seyval, Vidal, New York Muscat, and a handful of other cold climate hybrid varieties were also planted.
This proved a wise strategy. In 2012, Nova Scotia launched its first wine appellation, Tidal Bay. These light, aromatic white wine blends must be made from at least 51% hybrid varieties: L'Acadie, Seyval, Vidal, and/or Geisenheim 318. "Today, our most popular wines are our hybrid-based Nova 7, and our Tidal Bay," says Morozov.
While Blomidon, Benjamin Bridge, and a growing number of other Nova Scotian wineries have proven successful with their premium vinifera-based sparkling wines, hybrids continue to dominate the province's acreage. The situation is similar in Québec Vignoble de l'Orpailleur is one of Québec's oldest wineries. Before planting their Dunham vineyards in the early 1980s, Charles-Henri de Coussergues and his co-owners sought the advice of preeminent French ampelographer Pierre Galet.
Galet recommended Seyval Blanc and to this day, Seyval remains one of l'Orpailleur's most planted varieties. "It requires far fewer fungicides, ripens early, and has very pleasant flavours," says de Coussergues. Forty years on, l'Orpailleur still grows over 90% hybrid varieties, with robust sales through their tasting room and at the SAQ.
They have since diversified to include Frontenac and Petite Pearl, hardier varieties able to withstand Québec's frigid winter temperatures. At l'Orpailleur, the French hybrids are buried over winter. It is a laborious process, but as compared to vinifera, de Coussergues has observed far less bud rot on his hybrids when unearthing the vines in spring.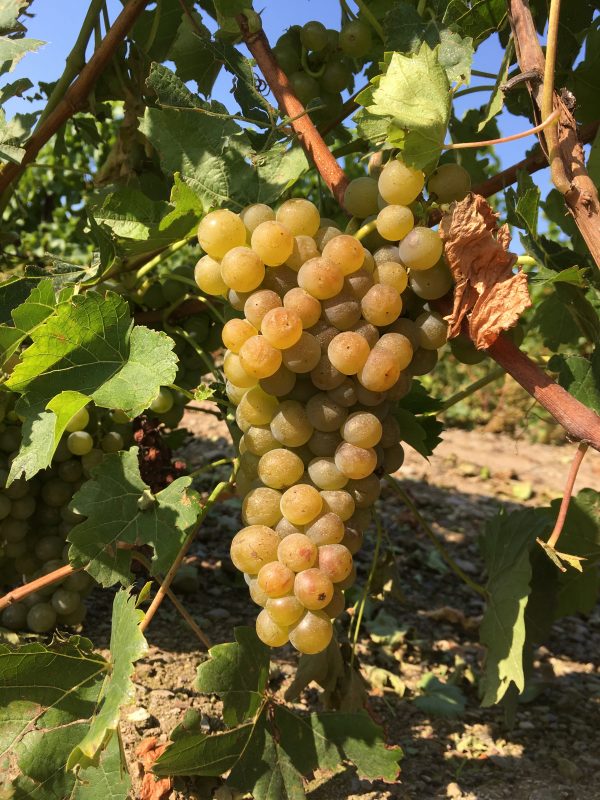 Mike Marler, owner of biodynamic winery Les Pervenches, is less convinced by Québec's hybrid varieties. Since acquiring their Farnham estate in 2000, Marler and his partner Véronique Hupin have experimented with ten different French and American hybrid varieties. Today, only one hectare of Seyval Blanc remains. Their other three hectares are planted with vinifera grapes.
Marler and Hupin found the hybrids to be "less interesting organoleptically," notably due to far higher acidity levels. "We make wine without intervention," Marler explains. "With our vinifera varieties we don't need to de-acid-ify or chaptalize, and we can experiment with a wider range of winemaking styles."
The hybrids also proved disappointing in terms of disease resistance. "Maréchal Foch is highly susceptible to downy mildew," says Marler. "It is impossible to work biodynamically." His Frontenac vines required almost as much copper as Pinot Noir, to ward powdery mildew and other diseases in early spring.
Marler estimates that Québec's hybrid grapes currently require 25% less fungicides on average than vinifera, but he wonders how long the situation will last. Many of Québec's vineyards were planted in virgin soil. "Is it really the hybrids," he asks, "or is it the disease-free soil?" Recent outbreaks of a new, late season downy mildew clade in several of the province's hybrid vineyards are a worrying sign.
Hybrid grapes are not a panacea against climate change. As fungal disease pressure shifts and evolves, resistance can wane. And growers are questioning how well some of the earliest ripening hybrids, so suited to Canada's once cooler, shorter growing seasons, will fare in the increasingly warm summers.
Despite this, Morozov still feels that "hybrids have been a more predictable pillar of viticulture" for Benjamin Bridge, citing their tenacity against the extremes. Rafuse agrees that, at Blomidon, having a good mix of vinifera and hybrids is the safest way forward.
As climate challenges intensifies, it will be interesting to see which vinifera and hybrid varieties are abandoned in favour of more suitable and sustainable alternatives. Perhaps, when I reflect on these changes in another twenty years time, it will be with a glass of Voltis sparkling wine in hand.
---
Domaine Bergeville L'integrale Extra Brut NV, Québec
Discreet lemon and chamomile aromas mingle with hints of baked bread on the nose. Aged thirty months on its lees, the palate is lively and ultra-precise, with fine bubbles, and a zesty, mineral tension that lingers on the finish.

Grapes: L'Acadie Blanc, Frontenac Gris, Frontenac Blanc, St-Pépin
Benjamin Bridge Pét Nat 2020, Nova Scotia
The nose is immediately intriguing with its succession of fresh herbs, tangy gooseberry, and tropical fruit nuances. Vigorous bubbles and laser-like acidity give the palate an electric energy. Finishes dry, with refreshing citrus bitters.
Grapes: 100% Geisenheim
Blomidon Cuvée L'Acadie Brut NV, Nova Scotia
Pretty aromas of green apple, wet stone, and brioche entice on the nose. The palate is racy and sleek, with lip-smacking lemon and saline flavours carried on a tide of exuberant effervescence. Finishes bone dry, without austerity.
Grapes: 100% L'Acadie Blanc
Vignoble de L'Orpailleur Blanc 2020, Québec
A tangy, easy drinking white wine reminiscent of Côtes de Gascogne. Green citrus and orchard fruit flavours are underscored by fresh, grassy nuances. The palate is crisp and light, with a smooth, rounded structure. Grapes: Vidal Blanc, Seyval Blanc, Frontenac Blanc

Les Pervenches Seyval Chardo 2020, Québec
Initially reserved, with honeyed white stone fruit and green almond aromas emerging with aeration. The palate is vibrant and textural with subtly savoury flavours. Pleasing bitters lift and lengthen the finish. Grapes: Seyval Blanc, Chardonnay
Southbrook Small Lot Vidal, Skin Fermented White 2020, VQA Ontario
Aromas and flavours of orange peel, gooseberry, and aromatic herbs entice on this lively, subtly earthy amber wine. Light, but not lacking in character, with its zesty acidity and discreet tannic edge.
Grapes: 100% Vidal
The Roost at Red Wing, Marquette 2020, VQA Ontario
Pleasing notes of red cherry, cinnamon, and black pepper feature on the nose. The medium weight palate is held in thrall by mouth-watering acidity. Smooth and fruity, with reasonably well integrated cedar spice nuances.
Grapes: 100% Marquette
Malivoire, Albert's Honour, Old Vines Foch, 2019, VQA Ontario
Very inviting on the nose, with well defined earthy, dark fruit aromas and hints of espresso bean. The palate is crisp and medium in body, with fine depth of flavour, and subtle tannic grip. Should soften nicely with 3 – 4 years' cellaring.
Grapes: 100% Maréchal Foch
Georgian Hills Maréchal Foch 2017, VQA Ontario
Fragrant dark berry aromas, with hints of cut flowers. The palate marries soaring, high acid with a dense, full-bodied core. Finishes smooth, with lingering cigar box and subtle barn yard hints.
Grapes: 100% Maréchal Foch
Blomidon Baco Noir Réserve 2020, Nova Scotia
A fragrant, deeply hued red, redolent
with ripe cassis, prune, violet, and cedar spice notes. Tangy, high acidity defines the full-bodied palate. Smooth, medium weight tannins frame the finish.
Grapes: 100% Baco Noir

Magnotta, Venture Series, Baco Noir 2017, VQA Ontario
A lighter interpretation of Baco Noir, with bright red cherry, cranberry, and vanilla flavours. Soft on the palate, with lip-smacking acidity, and a veneer of toasty oak. Grapes: 100% Baco Noir

Henry of Pelham Baco Noir, Old Vines 2020, VQA Ontario
Intense aromas of ripe blueberry, black plum, and cracked pepper feature on the nose. The palate is rich and dense, with a sweet core of ripe dark fruit tempering the lively acidity. Finishes smooth with lingering spicy oak notes.
Grapes: 100% Baco Noir
Château des Charmes Vidal Icewine 2019, VQA Niagara-on-the-Lake Ontario
Tantalizing aromas of candied lemon, honeyed orchard fruit, and white flowers unfurl on the nose. The palate is silken in texture, with pitch perfect balance of crisp acidity, vibrant citrussy flavours, and luscious sweetness.
Grapes: 100% Vidal
Inniskillin Vidal Icewine 2017, VQA Niagara Peninsula
An array of ultra ripe yellow fruit and butterscotch aromas fairly leap from the glass. The palate is equally heady, with its rich, layered flavours and opulent sweetness ably matched by juicy, refreshing acidity. Grapes: 100% Vidal