Low Alcohol. Big Flavour.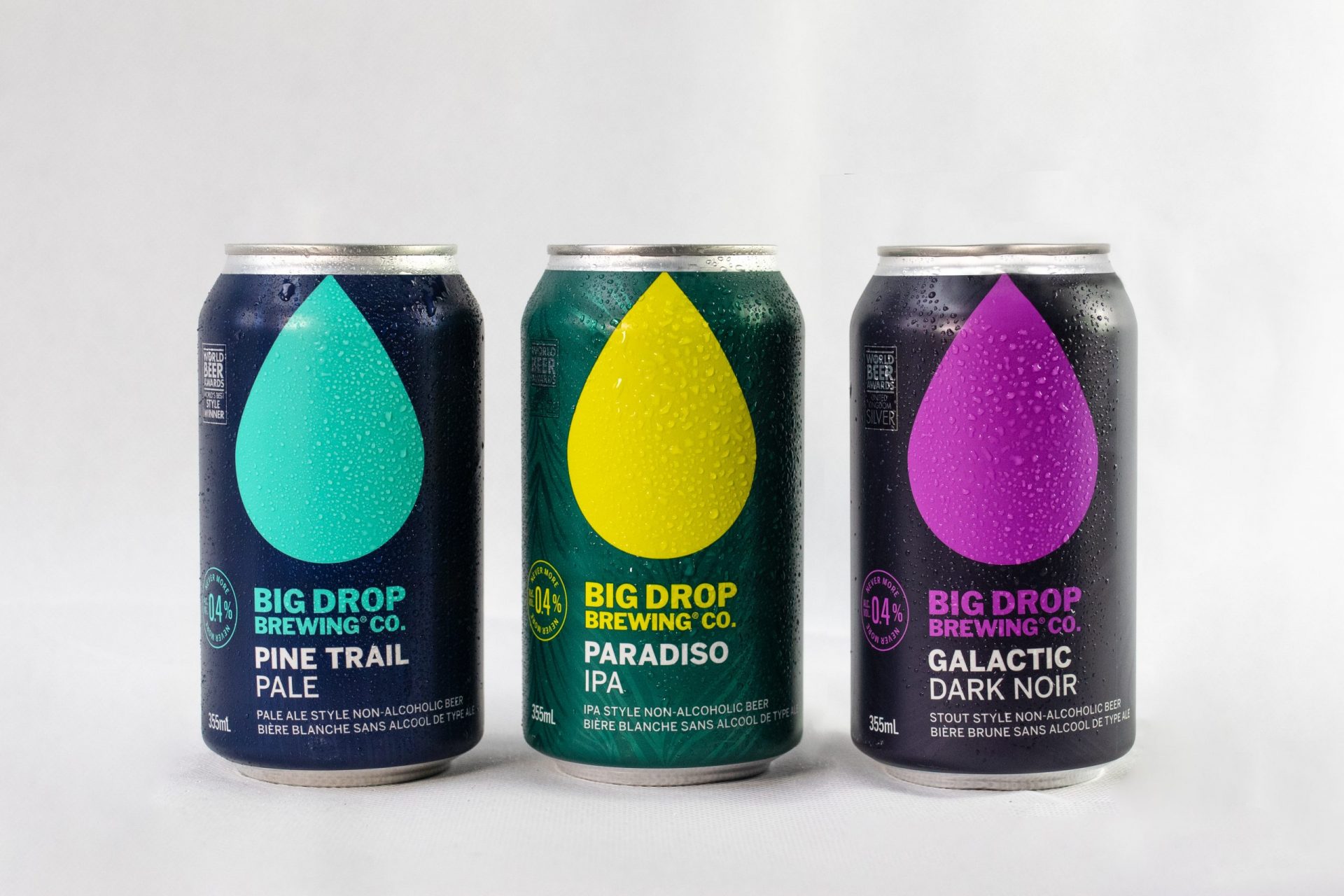 I'm not big on decaffeinated coffee. Or, for that matter, meatless meat. Ditto for dairy-free cheese, fat-free fats, and no-salt things that ought to be salty. So you can probably guess where I stand on alcohol-free alcohol. No thanks.
Alcohol in an alcoholic beverage lends more to the final liquid than just its relaxing effect. It adds body, texture and something governments can tax excessively. Past experiences with low/no-alcohol wine, beer and distillates has typically left me in search of a whisky, neat. That being said, a few beers with either reduced or non-existent octane levels have passed my lips as of late that have at least forced me to concede that "virgin" lagers and ales can actually be more than a novelty.
The Other Brew Drops
The UK's Big Drop Brewing Co. has cooked up a range of award-wining ultra-low (like, 0.4 per cent ABV) beers that from the get-go were designed to appeal to discerning beer aficionados. Launched in 2016 by partners Rob Fink and James Kindred, the project was the result of personal lifestyle changes and the realization that few options were available when it came to low-alcohol beers that actually tasted like well-crafted, craft examples.
"I quit drinking for six months after I had my first son in 2014, Fink (now an ex-lawyer) reveals. "At the time I still needed to do business development for my law firm. That usually constituted long boozy lunches. Suddenly I was forced into a situation where drinking non-alcoholic beer in pubs and bars was a necessity, and I soon realized the quality wasn't great…I ended up thinking 'why should people not drinking alcohol, for whatever reason, be forced to drink a sub-standard beer?'"
Having tried "…pretty much every alcohol-free beer available in the UK at the time," Fink concluded the vast majority kinda sucked. Even the ones that weren't bad didn't fit the stylistic profile that Fink gravitated towards (big hoppy IPAs; dark, heavy stouts). So with the help of Kindred, they enlisted the services of a knowledgeable brewer and perfected Big Drop's first beer – Galactic Stout – after about a dozen trial batches.
Today the brewer has 20 or so flavour-packed numbers in its roster. All are created with the craft beer audience in mind.
"We're unashamedly craft, and about 80 per cent of our consumers drink alcohol on a regular basis. So, really, we seem to scratch an itch that drinkers of craft beer have – that sometimes you just want a great beer, but you don't want the alcohol.
"The underlying reasons for that could be general health and wellbeing or any number of specific things, like training for a sporting event, corporate policy for working hours, young kids and early starts etcetera. But we don't really worry about that – we're just making great beer that happens to be non-alcoholic."
Since the calories in most alcoholic beverages come from the alcohol itself, are Big Drop's low-alcohol numbers low-calorie as well?
"The calorific content of our beers varies with style, just as it does in their alcoholic cousins," Fink notes. "But on average a can of Big Drop is about half the calories of an alcoholic beer."
No Phoney Peroni
Oh how I wish my condo's security people would call me when an impressive box of food and drink shows up (often hours) before a virtual event. Checking my watch nervously as kick-off time approached, I decided to make (yet another) trip down to the lobby. And, yes, the delivery was there (seems that unless your package bears Canada Post or Amazon markings, it isn't deemed to be phone call worthy). Luckily, the event was to be a virtual Italian Aperitivo Hour – meaning cold meats, cheeses, olives, and crunchy carb bits – guided by Toronto's renown Chef Rob Rossi of Giulietta restaurant, so a panic reheat wasn't in order. The event was staged to welcome Asahi Canada's Peroni Libera 0.0% to the Canadian market.
As the name suggests, Peroni Libera 0.0% is a completely alcohol-free beer and an addition to Italy's well-loved Peroni Nastro Azzurro brand. Reads the presser: "In recent years alcohol consumption has seen a downward trend, much in part to consumers being more mindful about consumption habits and their overall health and well-being. Peroni Libera 0.0% bridges this gap by offering the familiar taste of Peroni Nastro Azzurro without sacrificing taste or style – helping to elevate everyday experiences while contributing to a more balanced lifestyle."
As Rossi assisted us in laying out the perfect aperitivo board and fielded questions, I engaged in serious scientific research to determine a) if this new Peroni stuff was any good, and b) if it would provide a suitable match for the foods offered. Turns out yes and yes. The beer was crisp, balanced and refreshing, and it acted as the ideal complement and palate-cleanser to the delicious and varied items on the board. (Note: those living in Toronto who'd like to experience this board – with the beer – for themselves should check out www.giu.ca where it can be ordered for pickup and delivery.)
So whether you are starting to get concerned that your Happy Hour has been kicking off before noon (due to COVID), you want to try a Dry (insert month), or that these "unprecedented times" (sorry, had to say it) call for a greater focus on healthful practices, you (and other beer lovers) can reach for brews that are both low in alcohol and big on flavour.
Though UK-based, Big Drop Brewing Co. partners with breweries around the world to ensure its products enter the market at optimum freshness and to mitigate the exorbitant costs of shipping beer around the world in small batches. The following samples were brewed in London, Ontario. I think.
Big Drop Brewing Co. Pine Trail Pale (42 IBU)
Colour: pale straw. Aroma: forward grapefruit, herbs, bread dough, forrest loam. Flavour: light, crisp, mildly earthy, with some citrus undertones. Persistent, pleasantly bitter finish.
Big Drop Brewing Co. Paradiso IPA (42 IBU)
Colour: light gold. Aroma: similar in some ways to the previous, but with the earthy notes toned down and the citrus/pine elements enhanced. Flavour: brisk, zesty, pink grapefruit/lemon. Very nicely balanced, with a clean, refreshingly tart end note.
Big Drop Brewing Co. Gallactic Dark Noir (36 IBU)
Colour: dense dark chocolate – seems to absorb light rather than allowing it to pass. Aroma: dark chocolate, coffee, toasted nuts, smoked meat. Flavour: rich but with a certain elegance; unsweetened chocolate, roasted coffee bean. Creamy in the mouth, with restrained effervescence and a smoky/nutty finish. Pretty classic stout. Would be a great "food beer." Favourite of the bunch.
Peroni Libera 0.0%
Colour: straw gold. Aroma: malty, with a mild hoppiness and some cut hay nuances; quite intense. Flavour: lively and clean, with toasted grain and mild malt notes; a slight sweetness on the palate is counterbalanced by a welcome hop edge.