Libra: Alcohol-Free Beer that Tastes Like Beer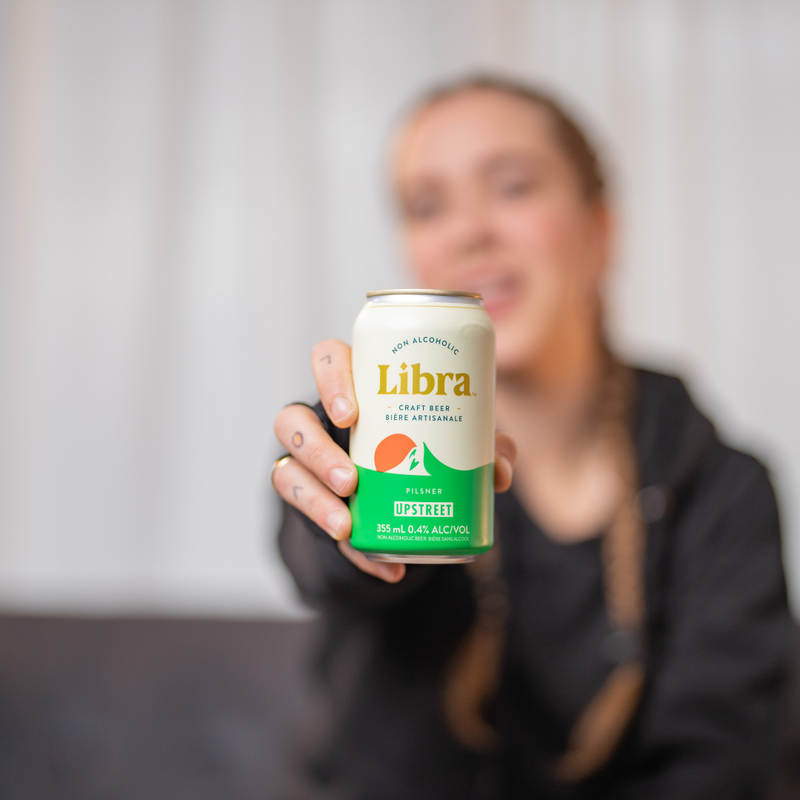 The term "alcohol-free beer" can make some folks raise their eyebrows. How can it be beer and taste like beer if it has no alcohol? Wasn't it fermented? Beer, by definition, has alcohol as a key ingredient. It contributes flavour and texture, in addition to the well known effects that are the reason many drink beer. Alcohol also helps preserve the beer and is the reason beer was safer to drink than water in the old days.
Low-alcohol beers have historically been dealcoholised after fermentation, making them "not beer." Some were essentially "beer flavoured" sodas, or something similar.
As an aside, I wish the industry would not use the word "alcoholic" to describe any liquid, as in "non-alcoholic" beer or wine. Many do. While correct according to Webster's, it can have a negative connotation. Alcohol-reduced or even alcohol-free work better, even though these beverages typically do have some alcohol. By definition the category must be below 0.5% alcohol by volume (ABV) in most jurisdictions.
However, what if the beer was naturally fermented to that low alcohol level, and no tricks were used to take the alcohol out? Is it then, in fact, beer? Yes…I think?
Mike Hogan, of Charlottetown, PEI's Upstreet Brewing, is answering that question with their popular line of Libra "non-alcoholic" beers (there it is again). Hogan developed a special brewing process that results in beer that ferments down to 0.4% ABV, which is remarkable. It also tastes a lot like some regular strength beer – see my reviews below – which is very different from the dealcoholised beers of the past. There are other breweries doing similar
things around the world, including elsewhere here in North America.
They have had great success with Libra, to the point where we now see it on the shelves of our large grocery chains. They are also "exporting" across Canada.
"Sales for Libra are growing between 40-50% month over month," said Hogan in a recent interview, "so it's going very well. We project sales to continue to increase as we release new and exciting styles."
Upstreet is known for making excellent beers and running a successful tap room with food in Charlottetown, but Libra has become very important to their business. "In 2021, Libra as a whole was around 16% of our sales, but for 2022 we are planning for it to be almost 50% so we will be expanding with more tanks in the Spring. And we expect that to continue to grow over the next several years."
As for the technique to make the low alcohol Libra, it's a secret. But Hogan did explain that it was strictly process related and didn't require a large investment in any special equipment. They also don't pasteurize, which is interesting, because alcohol plays a key part in the age-ability of beer. "As long as we keep the dissolved oxygen low, we are saying the shelf life is a year," Hogan added, "There's no risk of refermentation in the can."
They started with a Pale Ale, then added a Hazy IPA, Pilsner, Stout, and Cherry Sour to the lineup. Products like this are changing the perception of alcohol-free beer, and there will likely be many other producers following suit. If it tastes like beer, and it sells like beer, it is beer.
Libra Pilsner – Pours a pale golden colour with not much head. Aromas are of noble Euro hops. Tastes beer-like, kind of like a light lager due to its low body, but with more hop aroma and flavour. Pleasant and very dry. 0.4% ABV
Libra Pale Ale – Medium gold colour, with low to no head. Has a subtle hop nose with a very tea-like note, but has very little bitterness or malt flavour. 0.4% ABV.
Libra Hazy IPA – Pale gold, again with not much head retention. Has that same tea-like hop aroma as the pale ale, but with some definite citrus. This has a definite beer flavour, with even a little bitterness, and a mild but pleasant malt aftertaste. Very thin body for an ale, but tastes more like beer than North American low alcohol or calorie reduced lager. 0.4% ABV.