Is the Still the Source of a Rum's Terroir
I recently attended a virtual seminar and tasting (well, the tasting wasn't virtual – they sent samples!) of three very special El Dorado rums from DDL (Demerara Distillers), a renowned producer of a full range of rum brands. The seminar was hosted by writer and rum enthusiast Matt Pietrek, and featured DDL Master Distiller, Shaun Caleb and Master Blender, Sharon Sue-Hang-Baksh. These folks know their stuff, not surprisingly.
I've long enjoyed the El Dorado age-demarcated blends, but I had never delved into what are known as Single Still rums. El Dorado has a number of stills of different ages and technologies, but the ones featured were the famous wooden stills, identified by their original sugar plantations as Port Mourant, Versailles, and Enmore. The wood used is a native Guyanese hardwood called 'Greenheart', which I had never heard of, that is extremely dense and thus long lasting, resisting mold and rot. You can see the details and photos of all their stills at https://theeldoradorum.com/our-stills
The stills result in impressive, complex rums that are quite different from each other, which very much reminds me of the great Single Malts from Scotland. I think the DDL marketing folks agree because these are marketed similarly and priced accordingly. They are indeed special.
Here are my notes on the three rums, all made from molasses from 100% Demerara sugar production, with a brief description of the still.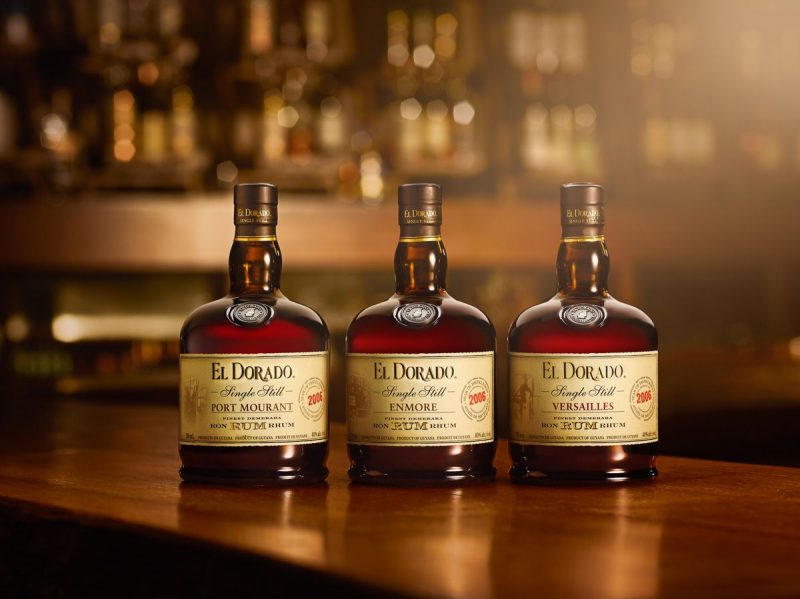 Enmore ($89.99 at ANBL)
The Enmore still is a wooden coffey still which is a type of continuous still. It was first constructed at the Enmore estate in 1880. Continuous stills tend to make lighter bodied, less complex spirits than pot stills. From 2006, this rum was aged 12 years in oak. It has butterscotch, lots of toffee, and is very fruity (dried fruit, stone fruits). It also has pleasant oak notes, which, combined with the fruit, reminds one of Armagnac or Cognac. It is very round and smooth, with perceived sweetness even if it's not actually sugary-sweet.
Versailles ($89.99 at ANBL; $87.95 at LCBO)
Versailles is a wooden pot still, which produces medium bodied spirit with smoky, spicy, fruity and even floral notes. This rum, also aged in oak 12 years, is more complex, even, than the Enmore, but still has the fruitiness and toffee notes. The complexity is in the leathery, earthy, greener areas of the palate. It is fruity but also has an herbal woody note alongside. The fruit comes across as fig and raisin, not unlike Amontillado Sherry.
Port Mourant ($89.99 at ANBL; $90 at SAQ)
Port Mourant is an unusual double wooden pot still known for producing a full bodied distillate. Constructed in 1732 on the Port Mourant estate, it is now the only remaining still of its type in the world being used for rum production. Most tasters marked this rum as their favourite of the three. It has the complexity of the Versailles but seems to be smoother and less earthy/leathery. It's fruitier. It has an apple pastry, spiced note, which is warm and inviting. It also has a longer lingering finish, sweet and fruity and spicy.
You can make arguments for all of them as your favourite. Maybe Enmore is for everyday sipping, while Versailles is for late night contemplation and Port Mourant is for celebrating.